Through Five Games, Illinois Defense Reaping Benefits of Huge Year-to-Year Improvement
Posted: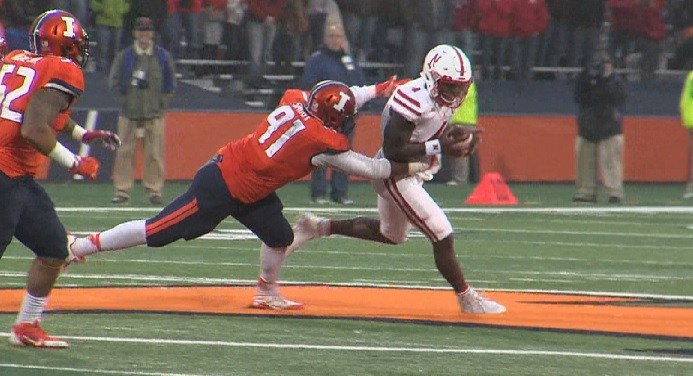 Illinois' DJ Smoot (91) chases down Nebraska QB Tommy Armtrong, Jr. for a sack.
By Matt Loveless
CHAMPAIGN -- Geronimo Allison's game-winning touchdown reception is what most will remember.
The fact that he even had the opportunity with :51 to go against Nebraska, in an eventual 14-13 win, tells a more important story.
The game-winning drive was Illinois' 4th possession when down 13-7 to the Huskers. The previous three netted a total of zero yards.
The Illinois defense continued to leave the door open for the offense, allowing just 13 points, and holding the Big Ten's top passing offense to just 105 yards.
"We're not the '85 Bears right yet," joked co-defensive coordinator Tim Banks following their shutout win over Western Illinois.
However, to use Banks' phrase, through five games, they look closer to the 1985 Bears than the 2014 Illini.
There are qualifiers, of course, the first being that each schedule is different.
The Illini have a middle-of-the-road strength of schedule (ranked 61st by at least one metric) -- big wins over Kent State and Western Illinois would appear to skew the statistics.
They've also played a Nebraska team that has blown the Illini out the last two seasons, and a North Carolina team that did so this year.
It's fair to say the schedule has been similar, and with that, we compare some key defensive statistics through five weeks.
| | | | |
| --- | --- | --- | --- |
| | | 2015 RANK | 2014 RANK |
| Total Defense | 303.4 ypg | 21st | 108th |
| Scoring Defense | 17.8 ppg | 23rd | 101st |
| 3rd Down Defense | 21.8% | 4th | 88th |
| Pass Eff. Defense | 102.1 | 19th | 87th |
| *Through 5 games | | | |

Every metric showed marked improvement, but perhaps the most encouraging is 3rd down efficiency. Opponents are converting just 21.8% of third downs on Illinois, 4th best in the country. While the offense continues to try and find a rhythm, that means they'll get plenty of opportunities to do so - the biggest key to Illinois win over Nebraska.
"The defensive line - they're playing with a lot of emotion and a lot of passion," said Cubit. "A lot of that has to do with coach (Mike) Phair, and what he's done with those guys there."
Senior safety V'Angelo Bentley said that it helping an experienced secondary communicate.
"We're just more alert, more talking to each other about what we'd seen last year that they might come back to, and just looking at each other's eyes and depending on each other," said Bentley.
The Illini get set to face another team that feels good about where they are defensively. The Iowa Hawkeyes beat No. 19 Wisconsin 10-6 in Madison Saturday. Iowa entered the top 25 (at no. 22) for the first time since 2010.
Kickoff is scheduled for 11am CT in Iowa City.