EIU Holds Off SEMO 33-28
Posted: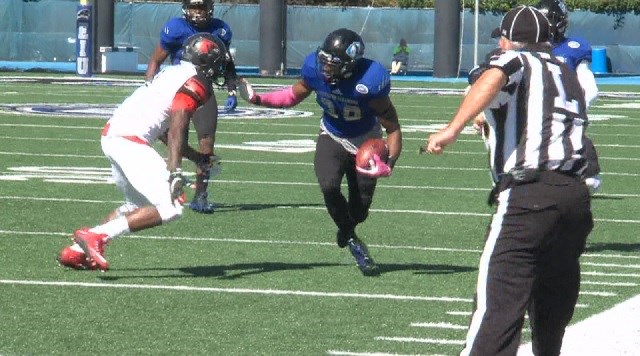 CHARLESTON (via EIUPANTHERS.COM) – Bradley Dewberry was among a host of players in the end zone knocking down a Hail Mary pass as time expired that gave Eastern Illinois its second Ohio Valley Conference win of the season. The Panthers picked up a 33-28 win over Southeast Missouri on Family Weekend on EIU's campus.

Southeast Missouri closed the score to 33-28 with 5:30 remaining in the fourth quarter and the Redhawks elected to kick deep instead of attempting an onside kick. EIU's offense was able to chew up nearly four minutes as they forced SEMO to use all three time outs on the drive. Jalen Whitlow his Paul Gossage for an 11-yard strike for one first down and then the senior quarterback rushed six yards for another first down.

Freshman punter Mike Bernier then hit a 54 yard punt pinning SEMO at the five yard line with 34 seconds to go in the game. Dante Vandeven hit Paul McRoberts with a 36-yard pass to give the Redhawks a chance just past midfield. EIU forced three incomplete passes to end the game including the Hail Mary attempt as the clock read zero.

Whitlow passed for 282 yards with three touchdowns while rushing for 78 yards. He now has 999 career rushing yards at EIU. Whitlow as 19-of-29 with one interception.

EIU was effective on offense in the opening half as Devin Church scored on a 3-yard run with 12:30 to go in the first quarter. Nick Bruno knocked home field goals from 20 and 39 yards to stake EIU to a 13-0 lead with 5:28 to play in the first half.

EIU's defense was suffocating allowing SEMO 37 yards in the first quarter and 39 yards of offense in the second quarter. The Panthers led 13-7 at the half as the Redhawks scored with 1:16 left in the first half on a Josh Kinzer 28-yard interception return for touchdown.

Addison Bounds gave the Panthers some breathing room in the second half catching an 11-yard touchdown pass on the Panthers first drive at 10:52. He then found himself wide open on the next drive catching a 65-yard pass from Whitlow for a score. Bounds finished the day with five catches for 107 yards and the two scores.

SEMO cut the lead to 27-21 as Lewis Washington scored on an 8-yard pass from Vandeven with 4:23 to go in the third.. Vandeven then rushed in from one-yard out with 13:39 to play in the game. Vandeven passed for 217 yards going 20-of-32 with two touchdowns and one interception. Vince Speller picked off a Vandeven pass in the first quarter.

The Panthers marched back down the field to make it a two score difference with Church catching a pass in the flat and scoring from six yards out. It was the second straight game Church has scored both a rushing and receiving touchdown. The junior finished with 151 all-purpose yards.

SEMO closed to 33-28 in the fourth with McRoberts catching an 8-yard touchdown pass. McRoberts had nine catches for 132 yards and one score.

EIU's defensive effort was led by Kamu Grugier-Hill who finished with four tackles for loss as the Panthers had ten TFL as a team. Grugier-Hill had eight tackles with a half sack. Jourdan Wickliffe had a team high 11 tackles with Malcolm Miller making six stops.

Stephon Williams led SEMO with 11 tackles. EIU's offensive line did not allow a sack on the day.

The Panthers improved to 2-3 overall, 2-0 in the OVC. EIU will play at Tennessee State next Saturday night at 6 p.m. The game will be televised on American Sports Network from Nissan Stadium. SEMO fell to 2-4, 1-1 in the OVC.