Dehority, Defense Leading Eisenhower's Turnaround in 2015
Posted: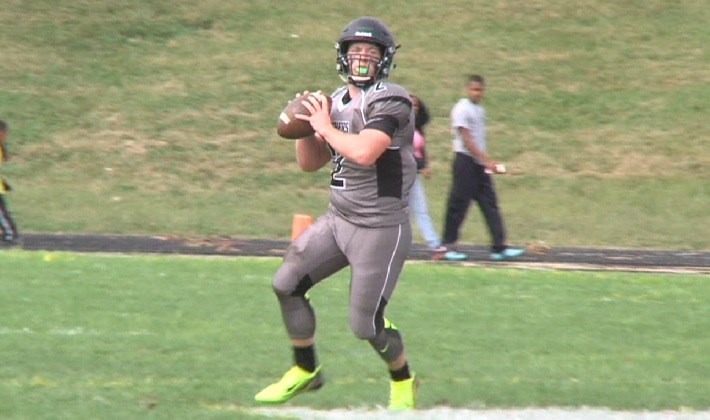 By Matt Loveless
DECATUR -- They've been one of central Illinois football's best turnaround stories in 2015.
The Eisenhower Panthers (5-2) achieved playoff eligibility Friday with a win over Southeast. Another win would clinch their first playoff appearance since 2004.
The mid-season surge is thanks in large part to the reliability of junior quarterback Cayleb Dehority.
"He wants to get better, he wants to be better than everybody," said Eisenhower head coach Drew Wagers. "That's his work ethic, that's his style, that's his mentality, that's his game. He just hates losing."
Dehority was thrown into the position as a sophomore, as the Panthers showed modest gains on their way to a 2-7 record in 2014.
A year later, he's averaging about 250 yards per game passing, in the Central State Eight's 3rd-ranked offense.
"Me and Wagers definitely got together over the offseason and tried to work on the passing game in this offense," said Dehority. "I definitely tried to get stronger and a little faster."
"He's definitely matured from sophomore to junior year," said Wagers, "so next year ought to be special, too."
Eisenhower knew the prospect of a hot start was a longshot, opening with multi-year defending state champions Rochester and Sacred Heart-Griffin. The Panthers lost to the Rockets 79-48, then fell the following week 74-31. The offense was potent, as expected, but the 153 points allowed in those two weeks were a concern.
Eisenhower responded by allowing just 13.8 points a game since week 3. That ranks 2nd in the CS8 in that span.
"We found out if we just put pressure on teams, good things would happen for us," said Wagers, "and that's been our identity."
Opposing coaches can easily fit the phrase "other than those games against Rochester and SHG" into evaluations of their own teams. The Rockets and Cyclones are, figuratively, in a league of their own, which most any CS8 coach will admit.
Just for fun, we decided to look at the CS8 standings if the two were literally in some other league, and the results favor Eisenhower.
| | | | |
| --- | --- | --- | --- |
| *Excluding games vs. Rochester & SHG | RECORD | PTS/GAME | PTS. ALLOWED |
| Eisenhower | 5-0 | 45.6 | 13.8 |
| Jacksonville | 4-1 | 43.2 | 31.6 |
| Glenwood | 4-1 | 41.2 | 16.2 |
| Southeast | 3-3 | 23 | 24.3 |
| Springfield HS | 2-3 | 34 | 26.6 |
| Lanphier | 2-3 | 33.8 | 30.4 |
| MacArthur | 1-5 | 18.2 | 46.8 |
| Lincoln | 0-5 | 2.8 | 46 |
"We're figuring out how to win games, and how to finish ballgames, which is impressive," said Wagers. "You need that this late in the season."
A program that was 11 years removed from their last playoff appearance, now has dreams of hosting a postseason game.
"We think about that all the time," said Wagers. "Our ultimate goal was to try to win these last seven games. Obviously it feels good to have five, and we're playoff eligible, but the whole goal was to win out the season."
"Seven wins in a row going into the playoffs - that would be good for us," said Dehority. "That's kind of our goal."
The Panthers face another big test Friday, as they host Glenwood (4-3).