Tyler White's ACL Tear Leaves Illinois Struggling to Find Tight End Help
Posted: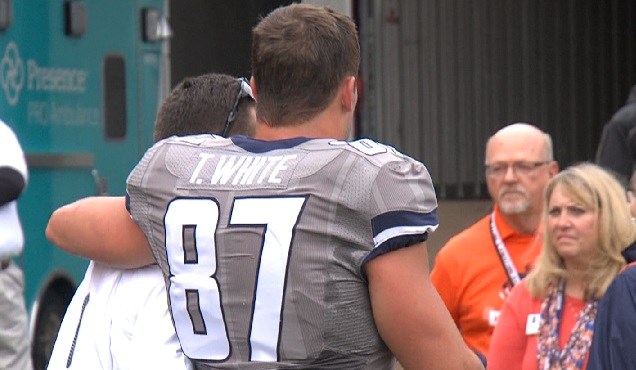 By Matt Loveless
CHAMPAIGN -- Illinois junior tight end Tyler White will miss the rest of the 2015 season with a torn ACL, an MRI revealed Monday.
Illinois head coach Bill Cubit broke the news on his weekly Big Ten teleconference Tuesday.
White was hobbled and helped off the field in the first quarter of Illinois' 24-13 loss to Wisconsin.
White had missed Illinois' previous four games after suffering a concussion, but returned to action following the bye week. In the first two games of his 2015 season, he had five catches for 46 yards and two touchdowns.
White joins an unfortunately long list of injured offensive starters for Illinois, which includes runningback Josh Ferguson (shoulder), and receivers Mikey Dudek (ACL tear), Justin Hardee (foot), and Marchie Murdock (thigh).
White's absence will also leave the tight end position in dire straights. Senior Tim Clary (hand) was injured just two weeks into the season, and with White's absence, that leaves Nathan Echard (one catch this season) as the only tight end on the roster who's played the position in 2015.
Cubit was asked if he has considered moving another player to a tight end role, like the way he has played defensive backs V'Angelo Bentley and Caleb Day on offense.
Cubit said he's out of options.
"Even on Sunday, I went over personal, and went, 'Who else can help us, mentally and physically?' There's just nothing else we can do," said Cubit.
Illinois (4-3) travels to Penn State (6-2) for an 11am CT kickoff on October 31.