Illinois Men Win Inaugural East Lake Cup
Posted: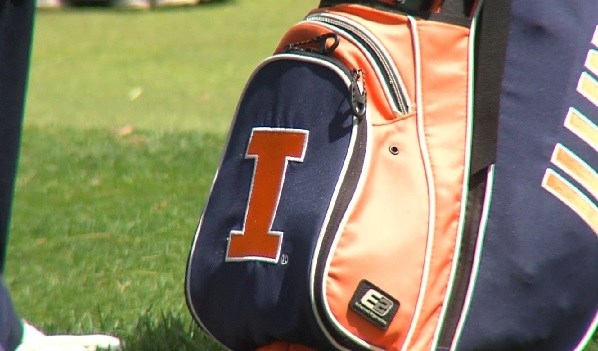 Atlanta, Ga. - Fighting Illini Men's Golf earned it's fourth tournament title of the fall season on Tuesday, taking home the Inaugural East Lake Cup title. The two-day match play event saw the No. 2-ranked Illini take on both No. 8 USC and No. 17 Georgia at the East Lake Golf Club, live on the Golf Channel. The Illini pulled out a 3.5-1.5 win over Georgia in the final matchup of the day after earning a 4-1-0 victory over USC in the early morning hours.
"It was a very productive two days," head coach Mike Small said of the event. "We learned a lot about ourselves as a team and as individuals, and everybody contibuted today. It was a good way to wrap up a successful first half of the season. Not only that, but we got a lot of exposure as a program. This was the first regular season collegiate golf event to be nationally televised, so to be a part of that and to win the event is something to be proud of."
After an early tee time on Tuesday, the Illini overcame USC in the semifinal round at East Lake to advance to the tournament finals. Seniors Charlie Danielson, Thomas Detry andAlex Burge finished their matches 1-up in the morn ing, as did Dylan Meyer who took his matchup to 19 holes. The Orange and Blue carried the momentum from their 4-1-0 morning victory into their afternoon match against Georgia.
The Illini went head-to-head with the Georgia Bulldogs in the finals, bringing things down to the wire. The Orange and Blue had a 2-1 lead in the tournament with two matches still on the course. In a tight race, Burge and UGA's Greyson Sigg took their match into extra holes, with Burge clinching the win for the Illini on the 19th hole.
Detry earned the first point of the day for UI, he topped Sepp Straka 4 & 3 after holding the lead for a majority of the match. Danielson also came out with a win, earning a 3 & 2 victory over Georgia's Jaime Lopez Rivarola. Rivarola started out with an early lead, but Danielson took the lead on the fourth hole and never looked back.
Sophomore Dylan Meyer was defeated by Zach Healy, who finished 2-up on Meyer, while Nick Hardy remained all square with fellow U.S. Open qualifier, Lee McCoy. Their match was not played out as the Illini had already clinched the trophy.
The event was the final go-around of the fall season for Illinois, the Illini will pick things back up in February at another match play event, the Tinervin Cup.