Sangamon Valley Trying to End Round Two Blues in Tough Matchup With Nashville
Posted: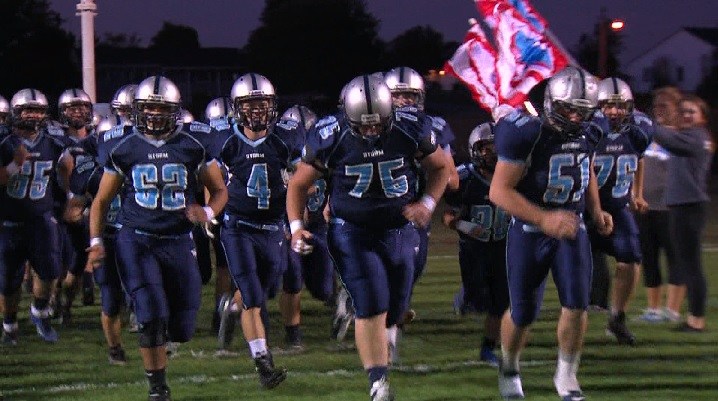 By Matt Loveless
NIANTIC -- New is good for Sangamon Valley football coach Michael Lee.
A program looking to reach the state quarterfinals for the first time in history, the Storm are just happy the Maroa-Forsyth Trojans aren't in the way.
Sangamon Valley (9-1) made the second round of the IHSA playoffs twice previously, losing to the Trojans in both 2007 and 2014.
"Neither time was it lack of effort," said Lee. "Just each time Maroa was a little bit better than we. So we're happy, I guess, to see somebody other than Maroa."
We'll leave the fact that the Storm and Trojans could face off in the next round for a future story.
For now, a big challenge awaits in Nashville. The Hornets (7-3) finished 3rd in a tough Southern Illinois River-to-River Conference. Five of six teams in the league were playoff eligible.
An 11-seed, Nashville advanced with a 31-28 road win over 6-seed New Berlin in the first round of the 2A playoffs.
The Storm know to prepare for the Hornets' run game, but they also benefit from an opportunistic passing game.
The most talked about player on the field will be Nashville's tight end, No. 88 Royce Newman. Newman is a Missouri commit, headed to play offensive tackle for the Tigers. List by some as 6-foot-7, 265 pounds, he measures more like New England TE Rob Gronkowski. An inch taller, in fact.
Used more as a run blocker, Newman broke free for a couple of first-half touchdown receptions in the win over New Berlin.
The two big keys for the Storm: Contain the Nashville running game, and limit Newman's opportunities to get space in the Sangamon Valley secondary.
"Obviously he's a load down-blocking when you have a kid that size, so we're going to do the best we can against him, and try not to leave anybody one-on-one with him," said Lee. "The great thing about football is that one kid has a hard time dominating."
Lee then joked, "but I probably wouldn't want to play him in a basketball game."
The Storm, coming off a 28-8 win over league rival Cerro Gordo-Bement, are countering that size with a big boy of their own. Center Gavin Hawkins -- Sangamon Valley's only 300-pounder -- is expected to play. Hawkins broke his wrist in a week six game against Argenta-Oreana, but appears ready to get back on the field this week.
"It allows us to get Jacob Jump back out to tackle, a little more familiar position," said Lee, "Although, over the last four weeks, I think we've got accustomed to Jacob playing center."
The Storm will be happy to get where the players are comfortable. Before Hawkins' injury, Sangamon Valley was scoring 43.7 points per game. Since, they've average 24.3 points. And that's not mentioning Hawkins' impact on defense.
"Defensively, he just gives us raw size. Gavin's a tough kid to move," said Lee.
This game will be Sangamon Valley's fourth 2+ hour trip this year. In the previous three, they're 3-0, outscoring their opponents by an average of 17 points.
Lee knows Nashville's a different animal, but hopes his team is once again ready to hop of the bus for what could be a historic day.
"We'll head on to an unfamiliar part of the state," said Lee. "We haven't been south in the playoffs really ever during the season. This is new to us."
As we've already established, new is good for the 2015 Storm.
Sangamon Valley's matchup with Nashville is set to kick off at 2pm Saturday at Nashville High School.