"Little Free Libraries" attract readers
Posted: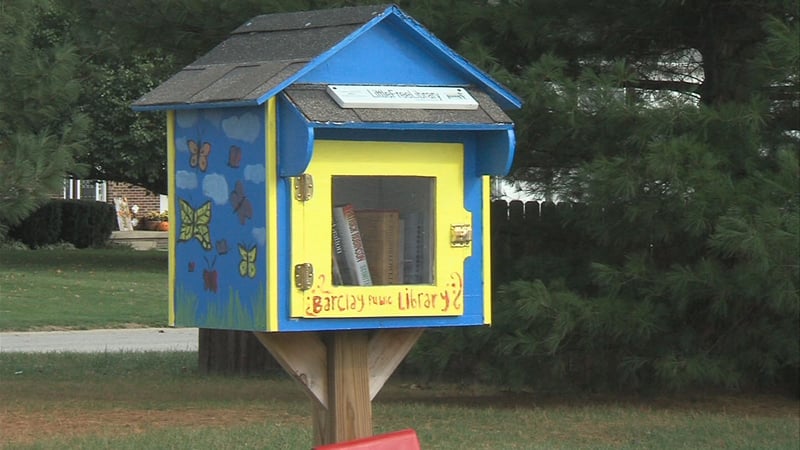 DECATUR- As a girl living on her family farm in western Illinois, Pamela Smith developed an appetite for books.
"Sometimes I would dodge chores and hide books up in the hayloft of our barn, and I would go up there and read," Smith remembered. "It was a wonderful place to read."
As an adult, Smith found work as a journalist. She kept her interest in books as well, building an extensive personal library. In recent years, she began looking for ways to share her books with others. On a bicycling trip in Ohio, she found a solution.
"We started seeing all these, what we thought, were mailboxes, but there were too many of them and they were too big to be mailboxes," Smith said.
The boxes, it turned out, were Little Free Libraries, simple lending libraries built by individuals or families that allow anyone to take a book for as long as they want and to leave books for others. As of September, there were more than 32,000 Little Free Libraries in the United States and around the world.
Two years ago, Smith's husband surprised her with a Little Free Library built to look like a barn. Since then, her "book barn" has hosted a rotating collection of children's books, agriculture magazines and other literature.
"I'll come out to look and check the books, and there'll be books I've never seen before, so I know people are bringing books, taking books, so I know it's getting quite a bit of activity," Smith said.
The small, free-standing libraries are also getting attention from traditional public libraries, like the Barclay Library in Warrensburg. They have erected Little Free Libraries in several of the communities in their library district.
"It's all about sharing. It's all about community," said library director Lacey Wright. "Because our district is so spread out, I thought it would be a great way to get books into those communities."
Wright said the library initially stocked those little libraries with donated books, but she said visitors to the little libraries have kept them full.
"When I go to visit the Little Free Libraries, I'm more weeding books out because there's too many in there," Wright said. "So we haven't had to provide a lot, but it's definitely allowing people to share books."
To learn more about Little Free Libraries or to find one near you, click here.