Signing Day: Kipper Nichols Set to Join Illini
Posted: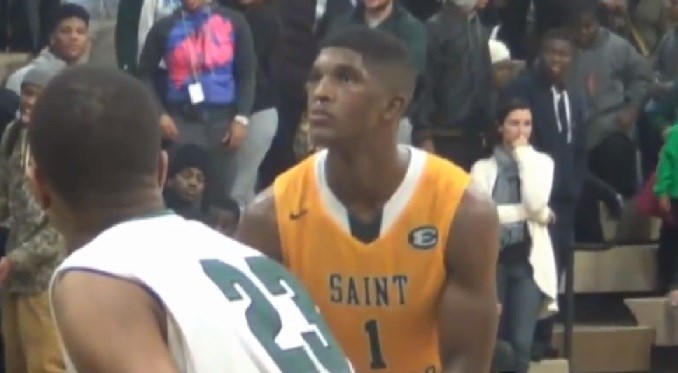 By Matt Loveless
CHAMPAIGN -- It was a signing day press conference with a surprise.
Illinois head men's basketball coach John Groce announced the signing of 6-foot-6 forward Kipper Nichols, a Tulane transfer. Nichols joins point guard Te'Jon Lucas to round out what is, for now, a two-man 2016 class.
Tulane granted Nichols a release from his scholarship over the summer. He'll join the Illini during the semester break, enrolling in school for spring 2016. Standard eligibility rules would make him available to play a year from then, meaning he could join the Illini midway through the 2016-2017 season, at the latest.
Groce implied they would make attempts to get him eligible sooner.
"He's very versatile," said Groce, evaluating his newest recruit. "He can play a lot of different positions, he can defend a lot of different positions."
Nichols averaged 18.6 points and 4.7 rebounds during high high school senior season in Lakewood, Ohio. Illinois junior Malcolm Hill said he saw a little bit of Nichols' on-campus workout, and immediately came up with an NBA comparison.
"We call him 'Little Jimmy Butler'," said Hill, "He looks like he has nice size, nice touch, so I'm really excited about him coming in."
Before the Nichols announcement, it was already a celebratory day for Groce, making official the signing of Lucas, a 4-star point guard (Scout.com).
Lucas verbally committed in September, and unlike the last high school point guard to commit to Illinois (Quentin Snyder), Lucas kept his commitment through signing day.
"He's a good leader, he's a good person, guys like him, and he's a great teammate," said Groce. "He's obviously talented. I think you see what he did during the spring and the summer - this past spring and summer - and really emerged onto the national landscape."
As a junior, Lucas averaged 14.3 points and 5.2 assists for Washington High School in Milwaukee. He had Illinois with Southern Cal and Old Dominion in his "top three" destinations,
"He plays that position in it's truest sense and fashion. He makes guys better," added Groce. "He's a guy who's really improved a great deal."
In the context of his new recruits, Groce talked about the value of "stacking" recruiting classes. Current freshman Jalen Coleman-Lands, D.J. Williams, Aaron Jordan, and redshirt freshman Michael Finke will represent the first wave of the next era of Illinois basketball. For Groce, the signing of Lucas and Nichols represent the continued focus of adding talent and depth.
"You've got to have the ability to play both ways -- to play both big and small, and to be very very versatile," said Groce. "And we've been able to accomplish that through our recruiting efforts."
You can read more about Illinois' 2016 class here.
Illinois opens the 2015-2016 regular season Friday, with a matchup against North Florida at the Prairie Capital Convention Center in Springfield.
The game tips off at 7pm.