Illinois WBB Signs Four-Player Class of 2016
Posted: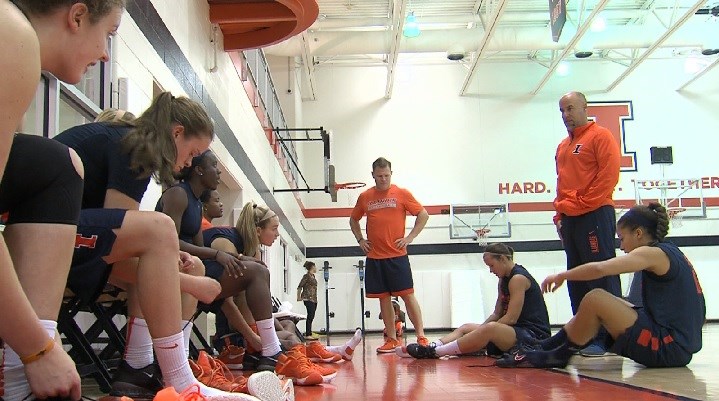 By Matt Loveless
CHAMPAIGN -- The Illinois women's basketball team added four players to their program Wednesday, and head coach Matt Bollant said he hopes to get at least a couple more.
The Illini signed two guards and two forwards to the 2016 class, including a top-30 point guard (nationally) out of Tennessee. That's Brandi Beasley, who turned down offers from Florida, and home-state schools like Vanderbilt and Memphis.
"I'm not sure there's a guard in our time that I'm as excited about as Brandi," said Bollant, "and she's got so much potential where her game could go."
The lone in state recruit is 6-foot-2 forward Ali Andrews, from Lake in the Hills, Illinois. She's listed as the top forward in Illinois, and No. 79 overall recruit in the nation.
Guard Courtney Joens (Iowa City, IA) and forward Sarah Overcash (Chevy Chase, Maryland) round out the group.
Bollant said the class showed the geographical reach recruiters now have in a wide-ranging Big Ten. He added he also thinks national TV wins last season against Ohio State and Minnesota helped.
"With Maryland coming in and Rutgers coming in, two really good programs in women's basketball, I think it's helped up be able to recruit our east," said Bollant. "Coach (LaKale) Malone is from Tennessee, has great ties there, so we're just try to reach for the very best players."
The Illini open the 2015-2016 season Friday night at 7pm against Chicago State at Parkland College.
Read about the newest Illinois recruits below.

Ali Andrews // 6-2 // F // Lake in the Hills, Ill. // Huntley High School
Achievements: Ranked the No. 14 forward in the country and No. 1 in Illinois by ESPN HoopGurlz…Ranked as the No. 79 recruit in the nation…Class 4A All-State Team…Helped Huntley to two-straight Fox Valley Conference Valley Division titles…Has scored more than 1,800 points in her high school career so far…Daily Herald Fox Valley All-Area Team Co-Captain…Associated Press First Team All-State selection…Has earned Huntley three consecutive regional titles and two straight sectional titles.
Coach Bollant's take: "Ali is a stretch four who can really shoot the three, post-up and score inside. She does all the little things well and plays the game with an aggressive style. Ali is an extremely driven person and her best basketball is still ahead of her. Ali is an excellent addition to our program."
What they're saying about Ali: "We are so proud of Ali for all of her accomplishments during her time here at Huntley High School, and we are excited to see her take the next step in her academic and basketball career by signing her letter of intent to play at the University of Illinois. It's a great opportunity for Ali, and she has worked so hard to put herself in this position. She is an outstanding player and role model for our program, school and community." - Steve Saethz, Coach, Huntley High School

Brandi Beasley // 5-6 // G // Memphis, Tenn. // Ridgeway High School
Achievements: Stands as the No. 2-ranked recruit from the state of Tennessee and the No. 27-ranked point guard in the nation by ESPN HoopGurlz…AAA Miss Basketball Finalist…Chose Illinois over Florida, MTSU, UT Martin, Vanderbilt and Memphis…Plans to study engineering at Illinois.
Coach Bollant's take: "Brandi is one of the top point guards in the country. She can do it all at the point guard position, she really sees the floor and passes well. She is extremely explosive and has as good a pull-up as any one out there. We are so excited to have Brandi and we see so much potential in her."
What they're saying about Brandi: "The last three years coaching/mentoring Brandi has truly been a blessing to me. Brandi is not only an awesome player, but she is a remarkable young woman. Brandi's basketball skills and her basketball I.Q. set her apart from most players. I know that Brandi will be a great asset to the Fighting Illini. I'm so glad that I had the opportunity to play a part in her life and help her grow as a basketball player and as a young lady." - Rhonda Kendall, Coach, Ridgeway High School

Courtney Joens // 5-10 // G // Iowa City, Iowa // City High
Achievements: Ranked the No. 27 point guard in the country by ESPN HoopGurlz, and the top out of the state of Iowa…Ranked among the top-5 guards in Iowa by IowaPreps.com…Holds City High's single-game records for points (42) and three-pointers (8)…Chose Illinois over Creighton, Drake, South Dakota, Nebraska, Minnesota and DePaul…Made 41 three-pointers in her sophomore season while averaging 14.6 points per game…Took City High to the 2013 state semifinals…Volunteers at her local elementary school and at her church…Consistently appears on the Iowa City High School Honor Roll.
Coach Bollant's take: "Courtney is a great two-guard who has great length and great shooting ability. She has a toughness about her, she makes big shots and gets to the rim. She will give us great size at the guard position, and has the ability to do so many different things. We are very excited to have her in our program."
What they're saying about Courtney: "Courtney Joens shoots it really, really well. She is a great outside shooter who can shoot it from deep. Not only is she an elite shooter, but she is a great kid. The Illini family and the community will just fall in love with her." - Dixon Jensen, Coach, All Iowa Attack
What Courtney Says: "I chose Illinois because of the closeness I felt with the team. I developed a great relationship with the coaches, players and other recruits during my recruiting process and I felt like part of a family. When I visited campus I felt like I was at home. I like the style of play that Illinois uses and think I will fit in well."

Sarah Overcash // 6-1 // F // Chevy Chase, Md. // St. John's College High School
Achievements: The top-ranked recruit out of the District of Columbia…Named DCSAA First Team All-State in 2015…Played with Penn State's Amari Carter and Michigan signee Kayla Robbins…Chose Illinois over Penn and Princeton…First-Team All-WCAC selection.
Coach Bollant's take: "Sarah is a post player who is extremely aggressive, she runs the floor hard and can really rebound. She does the little things extremely well and brings an aggressive style to the post. Sarah plays on a prominent high school team and a high-level AAU team. We're really excited for her to join our team."
What they're saying about Sarah: "The St. John's community is so proud of Sarah and her choice to attend the University of Illinois. As a four year varsity player and a First Team All-WCAC performer, Sarah has worked so hard to get to this place. Every coach wants and needs players like Sarah who will do everything that is asked to help her team be successful. I know that will continue at the next level, Illinois is getting a gem." - Jonathan Scribner, Coach, St. John's College High School