New-Look Illini Set for Opener Against Talented North Florida Team
Posted: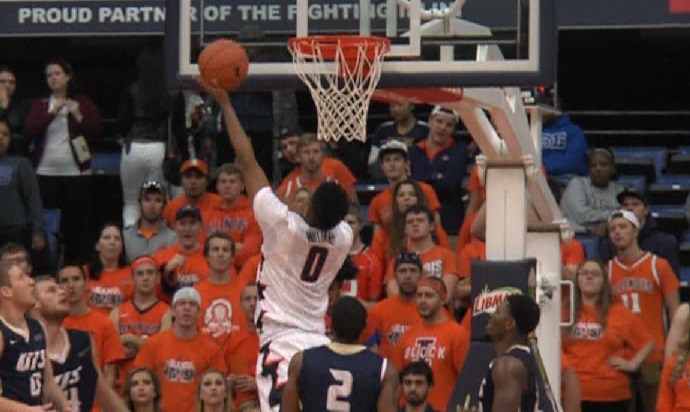 By Matt Loveless
SPRINGFIELD -- Lou Henson Court has settled in its temporary home, and now the Illinois men's basketball team hopes to find similar comfort as the 2015-2016 season begins.
The team starts regular season play Friday in a matchup with North Florida. The Ospreys made the NCAA Tournament's "First Four" in 2015, by virtue of winning the Atlantic Sun Conference Tournament.
North Florida turned heads early in the 2014-2015 season with a 73-70 win over Purdue in West Lafayette. Trailing by 7 with 3:11, they went on a 16-4 run, keyed by 8 points from star guard Dallas Moore in the final two minutes.
It was quite the opposite for the Illini at Purdue, who led 22-10 at one point midway through the first half, then watche'd that lead slip away, in an eventual 63-58 loss.
Groce noticed much of that Osprey team is going to be in Springfield Friday night.
"They shoot the 3 very very well, from multiple positions," said Groce. "At times, they'll have five guys out there that can do that, and that makes them really really dangerous."
Indeed, North Florida brings back a lineup full of scorers. Last season, four players averaged double-digit scoring totals. Three of them return, including leading scorer Dallas Moore. Moore average 15.8 points and 3.7 assists during his sophomore season.
The Ospreys ranked 20th nationally in 2014-2015 in 3-point shooting percentage (39.1%), and 13th in 3-pointers made per game (9.1)
"Moore reminds me a lot of the kid I coached at Ohio, (D.J.) Cooper," said Groce. "He's a lefty, and I had a few coaches tell me this summer when I told them we were playing them, that hed be one of the best point guards that we'd play against all season, bar none."
Other key returners include forward Beau Beech (12.9 ppg, 5.7 rpg), forward Chis Davenport (11.3 ppg, 6.5 rpg), and forward Demarcus Daniels (9.3 ppg, 5.9 rpg).
The Illini come into the game as the inexperienced team in the matchup, featuring just one player who averaged more than 5.0 points per game, and that's Malcolm Hill (14.4).
Groce hopes to have sophomore forward Leron Black back on the floor, and he attempts a return from surgery to repair a torn meniscus.
The Illini and Ospreys tip-off at the Prairie Capital Convention Center in Springfield at 1pm Friday night.
It's the first of four regular season games at the PCCC as construction continues on the latest phase of the State Farm Center renovation. The Illini are set to return home to Champaign on December 2 in a matchup against Notre Dame.