Millikin Drops Season Finale; Etherton Resigns
Posted: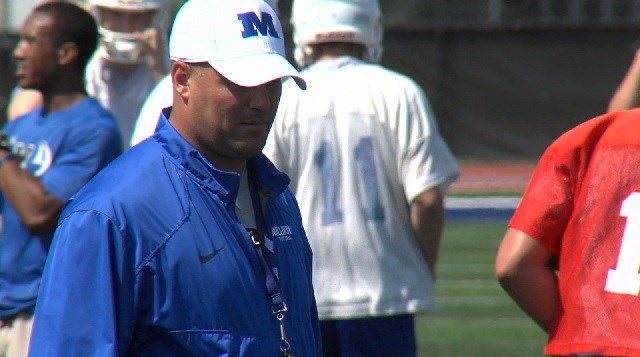 DECATUR -- Millikin head football coach Patrick Etherton has resigned. The announcement came moments after a 42-10 loss to Augustana in the season finale. Millikin finished with a 2-8 record.
"We appreciate the dedication and hard work Coach Etherton has put into the Big Blue football program over the last 12 years," said athletic director Craig White. "Patrick Etherton is a good man and a class act and has been a great role model for these young men."
Etherton joined the Millikin coaching staff in 2004, and was eventually named head coach in 2011. He compiled a 16-34 record in five seasons.
"I have been very fortunate to work at my alma mater for the past twelve years and would like to thank Millikin University for that opportunity," said Etherton. "I would like to thank my wife Airn, my son Rory and my daughter Adelyn as well as my entire family for their support of my career at Millikin University. I also would like to thank Lin Stoner and Larry Pauly for all that they have done to help our football program and mentor me as a person. While working at Millikin University, I was able to work for a great mentor and even better person in Doug Neibuhr and I appreciate the opportunity he gave me twelve years ago. I would like to thank Pat Allgeier and Dan Potempa for always being loyal to the football program and for being loyal to me over the past five years. I would like to thank all the players that I have had the great opportunity to coach over the past 12 years at Millikin University. I hope that I made a difference in their lives and I am forever grateful that the difference they have made in my life."
White says the search for Etherton's replacement will begin immediately.