"Big Mike" Thorne, Jr. Finding Early Success at Illinois, Despite Heavy Workload
Posted: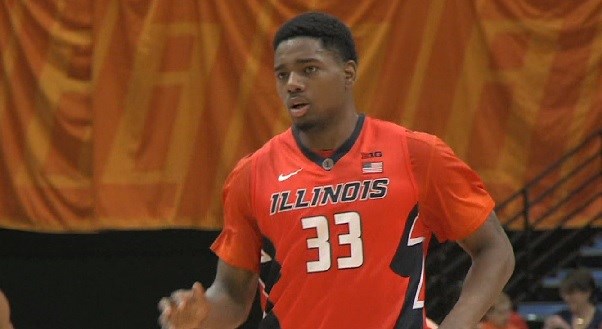 By Matt Loveless
CHAMPAIGN -- Illinois' new center said he's never had to do this much work on the basketball court.
Clearly, it's not having a negative effect on Mike Thorne, Jr.'s results.
"I love Big Mike," said Illinois junior Malcolm Hill of his 6-foot-11, 270 pound teammate. "Just because I know him as a person, when I see him get hyped during a game, it gets us all hyped up."
A transfer from Charlotte,Thorne averaged 10.1 points and 7.3 rebounds as a junior, accounting for 13.6% of the 49ers' offense.
In his first two at Illinois, against North Florida and North Dakota State, Thorne averaged 23 points and 11 rebounds, accounting for 25.6% of the offense.
"Coaches have a lot of belief in me to get the ball down low and score, and I think that's just about trust," said Thorne, who's making 61.3% of his shots. The rest of the team is shooting 42.4%.
"Those guys want me to be an efficient scorer whenever I can, whenever I have it going, so that's something I'm very appreciative of."
Asked Hill, "He's gotten a lot better since he first got here, so why not use him as a low-post presence?"
Thorne's performance this season will ultimately be judged against other centers of his size, particularly during a physical Big Ten schedule.
As Illinois tries to find its shooting touch from the perimeter (36.4% from 3PT), Thorne is find taking the brunt of the work, even as teams begin to double-team him.
"I could probably expect that coming up pretty soon, but I'll adjust to it fine," said Thorne. "I've got great shooters around me, and I think that will free up some of our shooters to get open looks."
The Illini play their first true road game of the season Wednesday in the Gavitt Tip-Off matchup against Providence. The Friars finished 4th in the Big East a season ago to earn a 6-seed in the NCAA Tournament.
The game tips off at 6pm CT.