Interim AD, Chancellor in Charge of Shaping Uncertain Future for Illinois Athletics
Posted: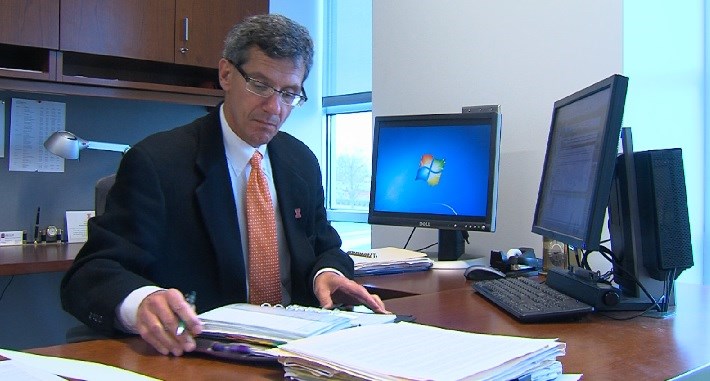 CHAMPAIGN -- The word "turmoil" may not quite cut it at Illinois.
The University of Illinois is still in the process of filling three key leadership positions -- chancellor, athletic director, and head football coach.
Even those on the inside understand the mess they left behind, and the clean up efforts that lie ahead.
"It's been a challenge, no question," said interim athletic director Paul Kowalczyk. "It's been a rough 6, 7, 8 months right now."
In fact, it was 6 months ago that a Twitter rant set a series of events in motion.
In May, former Illinois offensive lineman Simon Cvijanovic sent out hundreds of inflammatory tweets, mostly accusing head football coach Tim Beckman is medical mistreatment, intimidation, and generally running a program in a hostile environment.
Months later, most of what Cvijanovic claimed was corroborated in an investigation report by Franczek Radelet, a Chicago law firm hired to look into the athletic department.
"Everybody has different tactics, but when it starts to affect the health and welfare of the student athletes, that's when you know you've gone too far," said Kowalczyk.
Tim Beckman was fired in August, long before the report became public. Weeks earlier, athletic director Mike Thomas had given Beckman a vote of confidence, and told WAND he felt secure with his own job.
On November 6, Thomas was also relieved of his duties, for reasons unclear, other than the fact that Beckman's "tactics" happen under Thomas' watch.
Separate from the athletic department's issues, former chancellor Phyllis Wise resigned in August, citing "external" issues, but was the subject of scrutiny over the use of personal email to discuss controversial university topics.
Interim chancellor Barbara Wilson took her place, but claims to not be seeking the position full-time.
Under normal circumstances, the athletic director would consult with the chancellor on the hiring of a new football coach.
These circumstances are far from normal, especially with three varying levels of interest in the full time positions.
Kowalczyk said he's undecided about his future.
Cubit, however, has made his stance very clear.
"People ask if you want it. Yes I want it. Am I the best guy? Yeah I am," he said.
There's also a sense of urgency for the department, a week from the end of the college football regular season. Kowalczyk is aware of the fact that outside candidates will begin getting hired by other programs as soon the season ends. If the university wants to get a fair list of candidates, they'll have to act fast.
As such, when asked which position would get filled first, he mentioned football.
"The fanbase out there wants to know what's going on with football, and I think that's critical," said Kowalczyk. "Bill Cubit and his staff want to know what's going on with their lives as well, and that's what's unfortunate about the whole situation, but that is also the reality that we're dealing with."
The Illini already lost one potential AD candidate, when Colorado's Rick George announced Thursday he would decline any offer from Illinois. George was a 1982 Illinois graduate, and a four-year letter winner at defensive back.
George cited his good situation in Boulder as the reason for staying put.
If having a better situation than the one an AD might inherit at Illinois is an issue, the search for the right candidate will be difficult, and likely to take awhile.
All the current administration can do it push forward, continuing to sell the university to prospective students, athletes, coaches, and administrators.
"This school has a tremendous history, an outstanding culture," said Kowalczyk. "We're coming up on 150 years. There's a lot to be proud of, there's a lot to sell."
It might, however, be difficult to sell, since even someone considered "their own", like George, doesn't appear interested in buying.