Cubit, Kowalczyk Weigh In as Decision on Illinois' Football Coach Draws Near
Posted: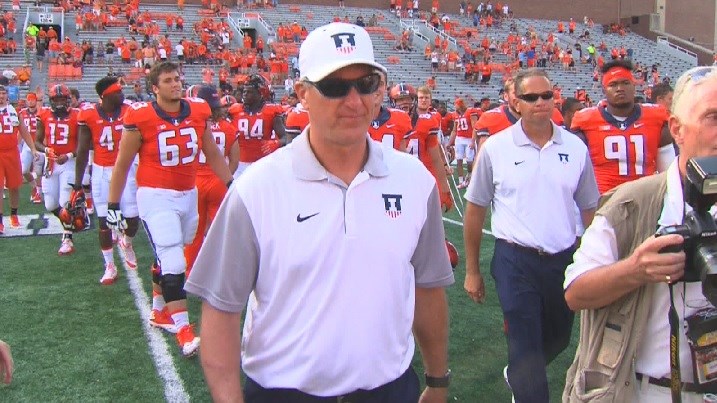 By Matt Loveless
CHAMPAIGN -- Time is of the essence at the University of Illinois.
Even for a university that's seeking a full-time chancellor and athletic director, a decision on the football coach may need to come first.
"The fanbase out there wants to know what's going on with football, and I think that's critical," said interim AD Paul Kowalczyk, when asked which of Illinois' three big interim positions would find a full-time solution.
Illinois interim head football coach Bill Cubit, meanwhile, sits in limbo, trying to get the 5-6 Illini bowl eligible for a second straight year.
"It's not my decision, and if it's not my decision, I'm not going to put a lot of time and effort into worrying about it," said Cubit.
The order of the decisions, and who makes them, has been a key point of mystery in recent weeks, since the university parted ways with athletic director Mike Thomas.
Kowalczyk acknowledges it would be unconventional to hire a coach before a decision on an athletic director, but Illinois can't afford to wait.
"Bill Cubit and his staff want to know what's going on with their lives as well, and that's what's unfortunate about the whole situation," said Kowalczyk, "but that is also the reality that we're dealing with."
That's not really a ringing endorsement of Cubit who, despite the uncertainty, gets no shortage of praise for the job he's done under some unique circumstances.
The offensive coordinator in 2013 and 2014, Cubit was named interim head coach in August, following the firing of Tim Beckman.
An investigation report by Chicago law firm Franczek Radelet alleged Beckman, among other things, purposefully mishandled injuries, and intimated student-athletes with threats of taking away their scholarships.
Three months later, when the full report became public, Thomas was asked to step down.
"These guys have been through a whole lot," said Cubit of his players, who have had to answer a lot of non-football questions this season. "They've been through a lot of coaches. Some of our lineman, through five line coaches, so you've got to give these guys a lot of credit for being resilient."
Kowalczyk gave similar credit to Cubit.
"Under those circumstances anything can happen, but Bill's rock solid," said Kowalczyk. "He's a determined individual, he's a straight arrow, and he commands respect."
There's certainly a case for the 61-year-old Cubit, a coach the players know and trust. In 2016, he'd have a returning senior at quarterback and most of a developing receiving corps, including the anticipated return of 2014 freshman All-American Mikey Dudek. Ke'Shawn Vaughn, off a solid freshman year, would be slated to anchor the offensive backfield, and many key pieces from a much-improved defense would be back.
There are reasons not make a change up top, and Cubit has been adamant about that point, especially in recent weeks.
"People ask if you want it? Yes, I want it. Am I the best guy? Yeah, in my mind, I am," said Cubit. "I think anybody put in this position would be saying the same thing."
Then there's the field of potential candidates, which Kowalczyk would be wise to pursue. While the Illini are on the brink of 6-6, they're also a loss against Northwestern away from falling to 5-7, and on the wrong side of the bowl picture for the third time in four years. A "fresh start" wouldn't sound so bad.
Cubit said he won't waste any time campaigning.
"It's not going to do me any good, and it doesn't do the players any good, because we have to make sure we give them a good plan to win," he said.
If an appearance in a bowl game is a deciding factor, then Saturday is a big day for Cubit, who could be making his last appearance with the Illinois football program against Northwestern at Soldier Field.
His bosses can pat him on the back all they want for his resilience under the circumstances.
That doesn't mean they won't pat it right out the door.