Illini Look to Clean Up Issue with Slow Starts at Emerald Coast Classic
Posted: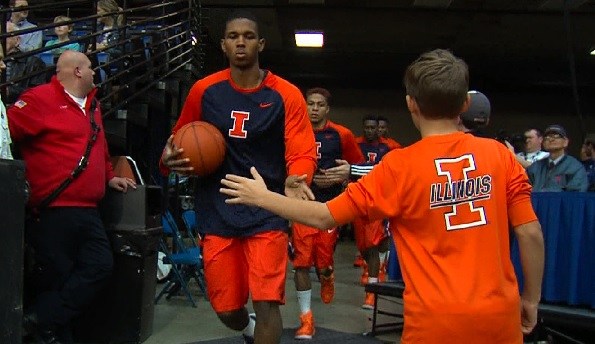 By Matt Loveless
CHAMPAIGN -- It's like your car in the cold of winter: It may take a little longer than usual to start up.
The Illinois men's basketball team (2-3), hardly a well-oiled machine five games into the season, is having a similar problem.
At halftime in their opener against North Florida, Illinois trailed 47-34. Two days later against North Dakota State, they fell behind 39-28 at the break.
In fact, Illinois hasn't led at halftime this season. In five games, they've gone into the locker room trailing by an average score of 39.4-31.2.
Part of the issue is having a young team. Four of five starters Monday against Chicago State were not on Illinois' active roster last season. The lone returner, Malcolm Hill, said that's just part of the problem.
"It's a little bit of everything," said Hill. "Part of it's chemistry, too. We all need to fire ourselves up more"
Alex Austin is one of those players who've found themselves in a starting role. An EIU transfer, Austin has found his niche as a defensive specialist for the Illini, adding eight points in Monday's comeback win against Chicago State.
He admits, it's a matter of getting into a rhythm with his teammates.
"For a lot of guys, especially me, we're starting for the first time, but I think we'll get adjusted to it," said Austin.
There is good news on the flip side: Illinois has outscored their opponent in each second half this season, and done so by an average of 44.6-38.0. Hill said they've played well when their backs were against the wall, but Illinois can ill-afford getting to that point in the first place.
The Illini begin play in the Emerald Coast Classic against UAB on Friday at 8:30pm CT.
Read more about the tournament here.