Top USA Billiards Team Coming to Decatur
Posted: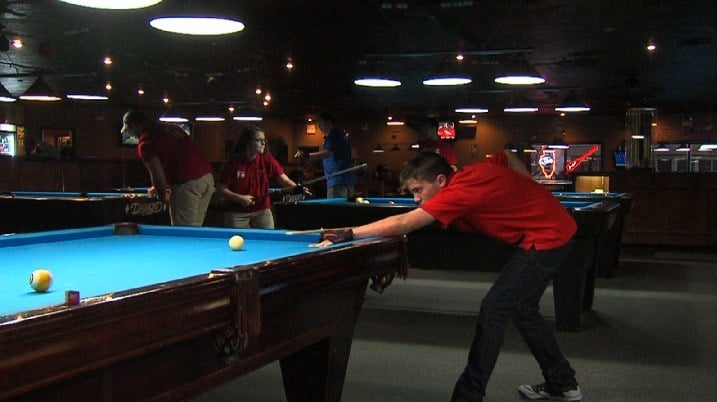 VIDEO: Junior Pool Players Excited for US Mosconi Cup Team's Arrival
By Matt Loveless
DECATUR -- Some local pool players are getting a unique opportunity to learn from the nation's best this weekend.
The Mosconi Cup team is coming to Starship Billiards in Decatur Saturday and Sunday. The team includes Mike Dechaine, Shane Van Boening, Corey Deuel, Justin Bergman and Skyler Woodward.
Those names may not perk up the ears of the casual sports fan, but they sure have caught the attention of the local billiards community.
Dave Carr calls it "something analogous to the Ryder Cup in golf."
It's as direct of an analogy as there is. The Mosconi Cup, like the Ryder Cup, puts a small team from the U.S. against a team from Europe.
In other words, it's like Davis Love III, Tiger Woods, Jim Furyk coming to Decatur to teach, and interact with young golfers.
"That's where I want to be one day. That's my dream, to get up there with those guys," said 16-year-old Timmy Bly.
Bly won a junior national championship this year, and looks forward to adding some more skills to his game.
"They help me with my stroke - my stroke is a lot smoother now," said Bly, who said their last visit helped him clean up his game on the way to his championship. "They help me with my bank shots, my combos, just a lot of different. That's the biggest thing, just to get help from those."
It's also valuable experience for Warrensburg-Latham H.S. senior Serena Black.
Black has won a couple of national championships, and will play in college and Lindenwood University, one of the nation's top billiards schools.
"It's basically an opportunity for them to work with the youth, and give us a sturdy foundation for what to work on," said Black. "Give us an opportunity to learn what it's like to compete at a national level."
That would seem to explain Decatur's - and the surrounding area's - representation at the 2015 Junior Championships. In addition to the titles for Bly and Black, Decatur's Ethan Shafer finished 2nd in the "Green Tier".
It all starts at Starship, where the group meets regularly to enjoy the game of pool.
Not all may have the aspirations of a Mosconi Cup someday, but Carr said that's not the point.
"As we give up our other sports in our 20s and 30s and before, pool is one of those sports you never have to give up," Carr said.
The Mosconi Cup team will be at Starship Billiards beginning at 1pm on Saturday, November 28 for a "youth only" clinic. Then, it's pool all day with 3pm challenge matches and 7pm doubles matches.
Sunday, there will be an open clinic from 11am to 3pm with Mosconi Cup captain Mark Wilson.
More information can be found at the Central Illinois APA facebook page.