Rockets Overmatched in 3A Title Game, Fall to Bishop McNamara 50-7
Posted: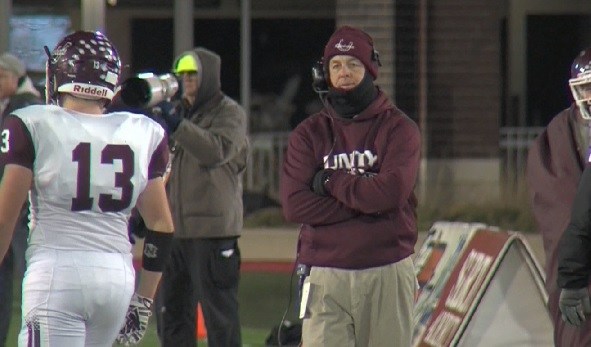 By Matt Loveless
DEKALB -- A dream playoff run for the Unity Rockets ended in disappointment Friday, in a 50-7 loss to Bishop McNamara in the 3A state championship game.
A 10-seed heading in the postseason - and finishing 4th in their own conference - the Rockets had to roll off four straight against higher seeds to make it to DeKalb.
"Avenging two losses -- in the quarterfinals (vs. Monticello), then in the semifinals in the snow (vs. St. Joseph-Ogden) -- was just unbelievable," said Unity senior RB Chandler Cousins. "Just to make it here was a dream."
It was little consolation for Unity, the great story of the IHSA playoffs, who just ran into a great team Friday afternoon at Huskie Stadium.
It wasn't good for the Rockets from the start. On Bishop Mac's first play from scrimmage, Irish RB Johnathan Ward broke through for a 56-yard touchdown run. Just 15 seconds into the game, the Rockets trailed 7-0.
Minutes later, Jerrico Johnson put Bishop Mac up 14-0 on a 7 yard TD run.
The barrage never let up, as the Irish took a 21-0 first quarter lead, extended to 42-0 by the half. They scored touchdowns on each of their first six possessions, thanks in part to Ward's 189 yard, 2 touchdown day.
On the other side, the Rockets punted on five of their first six possessions. The only one in which they didn't, Unity QB Steven Migut was sacked, and fumbled it away to the Irish. The Rockets, whose most lopsided loss during the regular season was by 20 points, faced a running clock in the 2nd half.
Down 50-0, Cousins ran in a 15 yard touchdown to get the Rockets on the board, but by then Irish had left no doubt.
Unity finished as the state runner-up for the 2nd time in four seasons. In 2012, despite a strong run through the playoffs, they fell 42-12 to Aurora Christian in the finals.
Despite the similar outcomes, Unity coach Scott Hamilton knows there's lot that was different about this run.
"It's different because we weren't the favorites, and nobody was ever picking us to beat anybody," said Hamilton. "We beat two teams that had already beaten us, and so just battling through all those things was pretty memorable."
"This season didn't go as planned, but in the playoffs it was new season," said WR Skyler Shephard. "We stared 0-0, everybody doubted us, and we just played through adversity."
This is the 5th time Unity (10-4) finished 2nd at state under coach Scott Hamilton. It's the 5th time in the last seven years the Rockets posted a double-digit win total.