Groce Frustrated with Lack of Progress on Defense
Posted: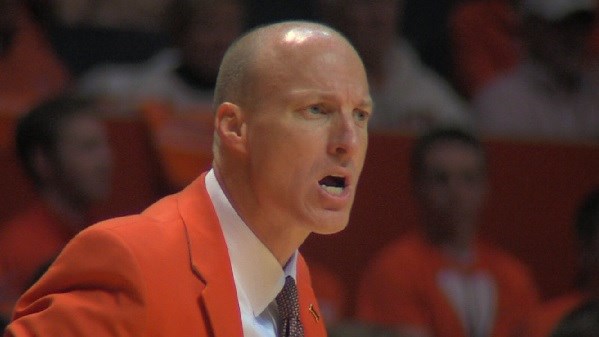 By Matt Loveless
CHAMPAIGN -- It began as a night of celebration, but 40 minutes off the clock later, it ended in more frustration for the Illini.
On the day State Farm Center re-opened -- after the arena's most comprehensive phase of a major renovation -- the Illini watched a 10-point second half lead turn into a 14-point deficit, in an eventual 84-79 to Notre Dame.
"We didn't play smart enough, and the execution wasn't good enough," said head coach John Groce.
The Fighting Irish shot 51.8% in the game and 57.1% in the 2nd half. That 2nd half total was helped by a 60% effort (6-for-10) from 3PT range.
"I'm getting tired of saying it. Guys have got to start doing it," a frustrated Groce said post-game. "I thought we ran in at the ball. I thought our gap help was poor. I though we left shooters. I just didn't think it was very good."
"I'd say the two main priorities are defensive rebounding, and not giving up catch-and-shoot threes," said junior Malcolm Hill.
It was the second game in a row the Illini (3-5) had a 2nd-half lead turn into a double-digit deficit. Against No. 4 Iowa State, Illinois took a 58-57 lead with 11:33 to go in the game, only to watch the Cyclones go on a 24-6 run.
According to Groce, it falls on defensive execution, and the numbers aren't looking good.
Through 8 games, Illinois ranks 263rd nationally in scoring defense (76.6 points allowed per game), out of 347 teams. Opponents are shooting 46.4% (296th), and 37.9% from 3PT range (292nd).
Their 3-5 record matches the program's worst 8-game start since 1967 (also 3-5).
"I've shared with you guys before, the Will Rogers quote: 'Some people learn by listening, seeing, doing, or by peeing on the electric fence'," Groce said. "I'm tired of the last one."
Illinois will have an opportunity to get a defensive confidence boost on Saturday, when it hosts Western Carolina. The Catamounts come in at 2-4, and rank 230th nationally in scoring (71.0), and 324th in field goal percentage (38.5%).
That game tips off at 2pm CT at State Farm Center.