Matt's Heisman Ballot: McCaffrey's All-Around Season Deserved Recognition
Posted: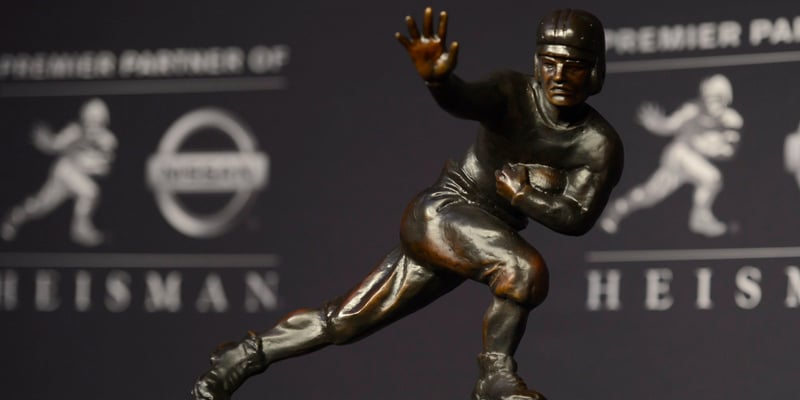 By Matt Loveless
Now that the Heisman winner has been announced, our ballots can un-seal! This is always one of my favorite times in the college football season, as very few players awards can generate so much debate, or come up with so many right answers.
This year, more than any in recent memory, I found myself struggling a bit to come up with a number 1, or even finish my top 3. That's mostly because there was no true runaway winner. Any of a number of players were remarkably consistent, and almost every one of them finished strong. It made for some fun suspense, and debate, throughout the season.
Everyone has their own criteria, which is part of the reason that even the 870 media votes are just part of the process. We're allowed a little bias toward our favorite stats, our regions, who we saw the most, and what impresses us. And remember, a Heisman ballot isn't "these are the only three good players in the country and everybody else stunk". Arguments could be made for many, and I really wished they had invited more to New York.
I've said in the past, I will rarely vote in two that play the same position, or two from the same conference. The way I see it, if you're the second best at your own position (apples-to-apples), how can I determine if you're better than someone in a different position (apples-to-oranges)? This year, I deviated from that position, only slightly, because of a lack of a truly electric WR candidate.
Below are my top-3, as entered in my ballot, but I've also included a bonus "if I could vote for 5" section.

1. Christian McCaffrey - Runningback/Receiver/Return Specialist/"Swiss Army Knife", Stanford University
I think I gave away the reason McCaffrey was No. 1 on my ballot right there. McCaffrey had 3,496 all-purpose yards, 1,000+ more than the guy in 2nd. He averaged 268.9 yards, per game, for Stanford. Obviously, that includes return yardage (in which he led the country), something I don't think I even needed to consider, but I certainly won't punish him for returning kicks, and STILL being the country's most effective offensive weapon. He finished 2nd in the nation in rushing (to a guy I'll get to), but he also had 41 catches for 540 yards receiving. To put that in perspective, McCaffrey would have led all receivers if he put up those numbers with Pac-12 rival Utah, and would have been 2nd on four other teams in his pass-happy conference.
In the Pac-12 Championship vs. USC, McCaffrey rushed for 207 yards, had 105 yards receiving, and a touchdown in each category. And, true to how I've voted in the past, I like to reward consistency. McCaffrey never had fewer than 133 total yards (rushing + receiving) vs. a conference opponent, and topped 200 five different times.
2. Derrick Henry - Runningback, University of Alabama
The 6-foot-3, 242 pound workhorse put together one of the best rushing seasons in SEC history. Henry averaged 26 carries per game, including 46 and 44 each in the last two. He topped 180 yards in 5 of his last 6 games vs. SEC opponents, and appeared to get stronger as the season wore on. Like McCaffrey, Henry put an exclamation point on a stellar season in his conference championship game, rushing for 189 yards against Florida.
If I wasn't paying close attention, I probably would have thought Henry was the only worthy candidate on the ballot - because that's what the TV talking heads wanted to tell me. In a vacuum, Henry's season is certainly Heisman-worthy (and before the hate mail comes in, I am saying he was one of the top 2 players in the country) but Henry had the misfortune of racking up all those rushing yards while McCaffrey was doing that and more out west.
3. Baker Mayfield - Quarterback, University of Oklahoma
I had a really hard time with this third pick, and convinced myself to put other names on here multiple times. In the end, I settled on what I thought was the best quarterback performance this season, and what it meant for his team. It certainly doesn't hurt that Mayfield's Sooners are in the College Football Playoff, and while I don't necessarily subscribe to the "well he's on the best team, so he's the best player" philosophy, it felt like Mayfield was as responsible as any for getting his team there.
I thought the Burlsworth Trophy winner (for the nation's top walk-on) deserved a trip to New York. I like stats, and Mayfield 's 35-to-5 TD-INT ratio is tops among power-5 QBs, and his passer rating (178.9) ranked 2nd. His worst performance came in the 2nd-to-last week of the season, and undoubtedly hurt his chances at being a finalist. Still, through an end-of-season "gauntlet" (vs. Baylor, TCU and Oklahoma State in three consecutive weeks), Mayfield completed 63% of his passes for 7 TDs and 1 INT - and won all three. For me, his 420 rushing yards (and 7 rushing TDs) were just an added bonus to an elite season in the pocket.
If I could have had five votes (in no particular order)...
DeShaun Watson - Quarterback, Clemson University
Mark it down: December of 2015 - The year I fell out of love with the running quarterback. More accurately, this is the year I'm done voting in the nation's best running quarterback by default. None of the following should come across as "bashing" a really good season for Watson, which he had as the leader of the country's best team, but the love affair with the running-QB-Heisman-winners of the recent past also has something to do with their effectiveness as a passer. Without flooding this thing with stats, here are just the passer ratings of quarterbacks in their recent Heisman-winning seasons, along with where they ranked nationally:
Cam Newton - 182.0 (2nd)
Robert Griffin III - 189.5 (2nd)
Jameis Winston - 184.8 (1st)
Marcus Mariota - 181.7 (1st)
You may or may not care for the efficiency stat - I happen to like it - and Watson's efficiency rating is 159.6, which ranks 12th overall and 7th among power-5 teams. You can forgive lower ratings among volume-passers, but Watson's yardage total ranks 16th. Part of that rating has to do with an unspectacular TD-INT ratio, and a yards-per-attempt average that ranked 24th in the country. I'm surely not counting out Watson's year rushing (I am writing about him here, after all). He had 887 yards to go with 11 rushing touchdowns, and that's certainly worth consideration. In the end, I didn't put him in my top three, because I didn't think he was the best quarterback, simple as that.
Luke Falk - Quarterback, Washington State University
While most of you were sleeping on Saturday nights this fall, a special season was happening in Pullman, Washington. As I glow about Mayfield and add up all the stats amassed by Watson, there's a guy neither of them could touch in terms of productivity in 2015, and that's Luke Falk - one of three Burlsworth finalists, along with Mayfield. The Wazzu QB averaged 377.5 yards of total offense per game, well ahead of Watson (338.4), and Mayfield (317.4). Three different times this season, he threw for more than 490 yards and 5 touchdowns -- at Oregon, at Arizona, and vs. Arizona State. One could argue that his best game came at UCLA - a ho-hum, 331-yard, 2 TD performance. The second score, however, came with :03 left, the culmination of a game-winning drive that started with barely more than a minute to play in the Rose Bowl, with WSU down 27-24. If Washington State didn't finish 8-and-4, I'm convinced we're talking about that as Falk's "Heisman moment."
The easy answer for all the big numbers is that he was a volume passer in a system that churns out volume passers. Without a doubt, Mike Leach's offenses are great for QB (and receiver) stat sheets, but Falk got those numbers with elite accuracy, and finished 2015 as the only power-5 QB to complete more than 70% of his passes. In fact, Falk currently ranks 10th all-time in career completion percentage. And though he did not start the first nine games of his freshman year (and missed one in 2015), he's still on a per-game pace to reach the NCAA top-3 in career passing yards and touchdowns. The last Leach QB to put up these kinds of number was Graham Harrell who, by the way, was a Heisman finalist in 2008. Before Falk, the last QB to get voted 1st-team all Pac-12 was Marcus Mariota, who won the award in 2014. All that said, while I don't hold a ton of stock in the "best team, so best player" argument, McCaffrey's all-around year booted Falk off my top-3. If Washington State takes the next step and contends in the next couple years, Falk should get an invite to New York soon.