From Player to Coach, Robo Kreps Again Finding Success at Maroa-Forsyth
Posted: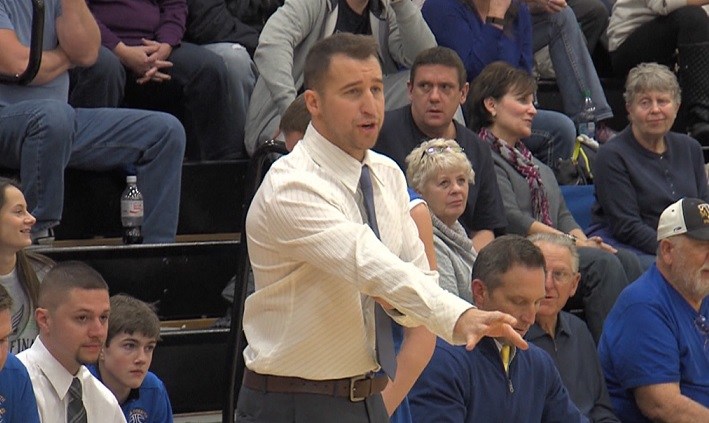 MAROA -- Today's Trojans remember where they were when Robo Kreps' crew was hoisting the 2007 Class A championship trophy.
"I was at home watching it on TV," said senior Parker Barrett, a 3rd grader at the time.
Now their head coach, Kreps is trying to get Maroa-Forsyth back to prominence.
"It's been great," said the first year coach, "Family's here, friends are here. It's just good to come back to your alma mater and actually make a difference
The golden era of Maroa-Forsyth basketball seems like a long time ago now. Since that state title, the Trojans are just 3-8 in the postseason, having advanced to just one regional final appearance in eight years.
The fall from grace hit a low point in 2014-2015, when they went 4-23. Head coach Chad Cluver resigned, and suggested in a resignation letter that the split was not amicable. The program seemed lost.
Kreps, not far removed from a stellar career at the University of Illinois-Chicago, kept tabs from afar.
"I think with any program you're going to have that," he said, "but I just know the past few years have been kind of tough on them."
Kreps took the job in the offseason, and took an unconventional approach to season prep. He said he didn't watch a single game film from last season.
"I didn't want to know any guys' tendencies, and that sounds really weird, but I just knew this year would be a completely different year, so the things they did last year, they're no longer going to be doing," said Kreps.
The early returns are positive. It's not even Christmas, and Maroa-Forsyth has already passed their previous win total. At 5-1, their only loss was a 64-62 defeat to Meridian in the opening round of the Macon County Tournament. The Trojans went on to win the consolation final.
A noticeable difference in the energy level on the Trojan bench. It translates to the court, and is a byproduct of having a coach who's just 27-years-old.
"I'm still at the age where I can relate to them. We listen to the same music, so I think they see me as a friend AND a coach," said Kreps, "and I think that adds to their intensity and motivation every day in practice, because I'm not a dictator."
The players agree.
"It's different," said Barrett. "He more a part of us, him being as young as he is."
"He makes it fun. He makes us come out fired out." said senior guard Trae Hise, who added that his coach's ability to read a defense is impressive. "He draws up a play and he's like 'Well he's going to be open'... and the dude's open."
It helps that Kreps isn't far removed from a successful playing career. At practice, he'll regularly get out and compete with his players. He said that's when he noticed how good this team could be.
"I had to get out there myself and see, does this team have what it takes? And I really think they do," he said.
Early success aside, it's baby steps for a program that can't expect to take a big leap in one year. The stated goal is 18 wins -- a 14-game year-to-year improvement.
They won't be hanging any banners for a county consolation title, but Kreps thinks they're closer to some real hardware than they've been in a long time.