Record rainfall causing flooding issues across central Illinois
Posted: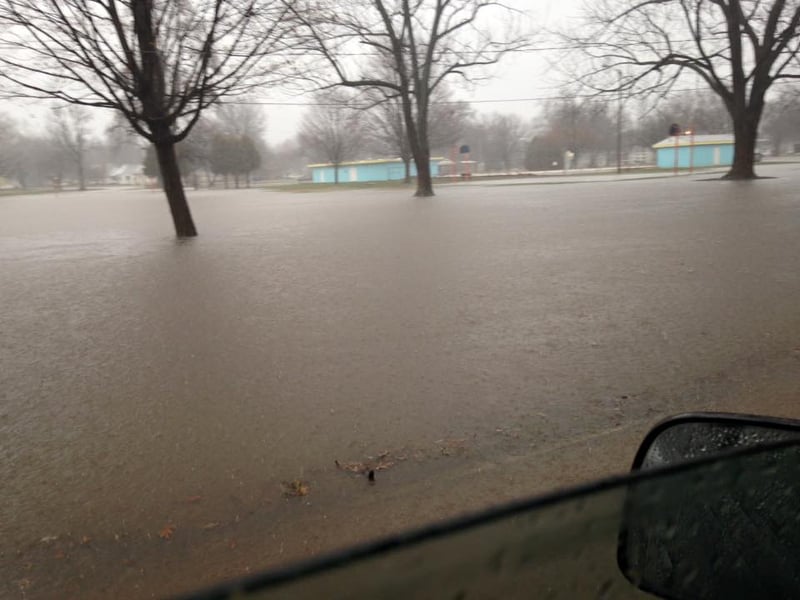 Flooding in Kitchell Park, Pana (Credit: Eli Weddle)
CENTRAL ILLINOIS -- A strong late-December storm is to blame for flooding rains from Texas to Illinois. In the WAND viewing area, the precipitation, accompanied with some lightning, started early Saturday morning and persisted throughout the day bringing numerous creeks and streams up to and out of their banks.
By 12 a.m. Sunday, accumulations had shattered record levels. Over four inches had fallen along a line from Hillsboro to Pana to Shelbyville and Sullivan. Decatur, Lincoln and Springfield all set new record daily rainfall amounts for December 26.

Reports of basement flooding have come in from parts of Macon County, while many yards are flooded in Pana and Christian County. Various county and township roads have been covered as well. Remember when coming to a flooded roadway, turn around, don't drown. The water may be deeper than it appears, possibly leaving you and your car stranded if attempting to cross.
StormCenter17 Meteorologist Adam Del Rosso says rain will continue Sunday and Monday with 1-3" of additional accumulation expected making matters worse. Flash flood watches remain in effect until 6 p.m. Monday. He says winds will be picking up as well. Gusts Sunday night and Monday will reach 40 to 50 miles per hour.
Stay tuned to WAND-TV and wandtv.com for the latest StormCenter17 forecast.