Cardinals Caravan Plans Mid-January Stops in Central Illinois
Posted: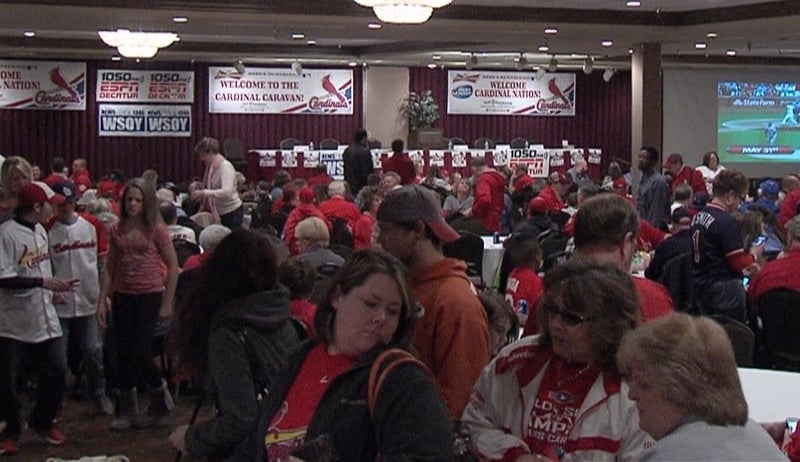 ST. LOUIS - The St. Louis Cardinals announced their four-day, 21-city tour of the Midwest Tuesday.
That tour includes stops in Champaign, Mattoon, Decatur, and Springfield.
The annual event gives fans a chance to meet and ask questions of Cardinals players and alumni, enter drawings for prizes, and kids can get autographs from the players.
The Cardinals will again be implementing the Autograph Ticket system at each stop. The first 400 children (15 and under) through the door on the day of the event will receive a free Autograph Ticket which guarantees one autograph from each current and former player. Due to high demand, autographs will only be available for children 15 and under.
Find information for local stops below. The full Caravan, along with information for purchasing tickets, can be found here.
January 15 - Players and alumni: Carlos Martinez, Mitch Harris, Luke Weaver, Mike Ohlman, Tom Lawless, Andy Benes
Champaign, IL - I Hotel and Conference Center, Noon
January 17 - Players and alumni: Tommy Pham, Tim Cooney, Marco Gonzales, Arturo Reyes, Jose Oquendo, Kerry Robinson
Mattoon, IL - Lake Land College Field House, Noon
January 18 - Players and alumni: Tommy Pham, Tim Cooney, Marco Gonzales, Arturo Reyes, Jose Oquendo, Kerry Robinson
Decatur, IL - Decatur Conference Center and Hotel, Noon
Springfield, IL - Prairie Capital Convention Center, 5pm