Champaign horticulture worker nurses beloved butterfly
Posted: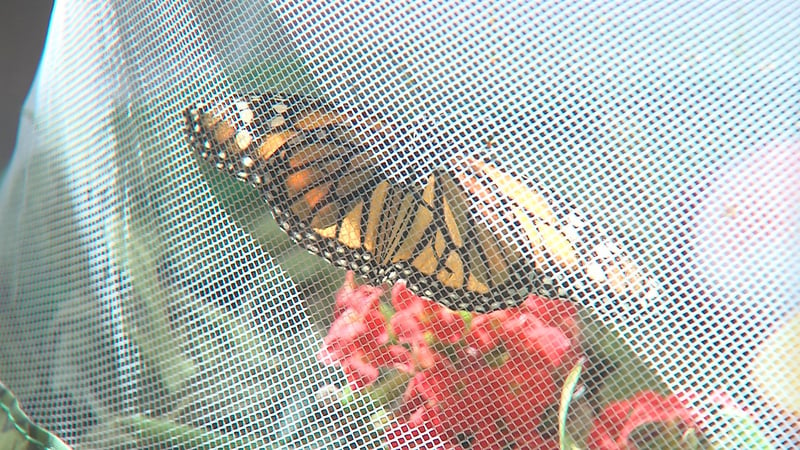 CHAMPAIGN - When Holly Borukhovich saw the bright-colored caterpillar crawling across the sidewalk this past November, she knew exactly what she had found.
"I was shocked," Borukhovich said. "We'd done some work this summer on monarch caterpillars, and I just knew it was one."
Borukhovich, a horticulture worker with the Champaign Park District knew that, by November, monarch butterflies would have left Illinois on migration to Mexico. Hoping to save this member of the species, she scooped up the caterpillar and took it back to the shop where she works.
In recent decades, the number of monarch butterflies has decreased, and communities like Champaign have worked to restore their populations by planting milkweed, an important part of the monarch caterpillar's diet.
"You're losing a lot of the milkweed, so you're getting fewer numbers, just simple math," said Randy Hauser, horticulture and natural areas supervisor for the Champaign Park District. "So the trend now is just to plant milkweed like crazy."
Borukhovich and her co-workers found a container to house the caterpillar and added milkweed clippings. Eventually, the caterpillar's condition improved and it formed a chrysalis. In December, the chrysalis broke open, revealing an adult butterfly.
Now, community members and Borukhovich's co-workers are looking for ways to get the butterfly, now named "Holly" to Mexico. They've begun an online fundraising effort to that end. Meanwhile, Borukhovich said she considers the butterfly remarkable.
"I think she's kind of a miracle," Borukhovich said. "She shouldn't have made it. She shouldn't be here … just the miracle of nature."