Dino Fanti Named FCS Defensive Tackle of the Year
Posted: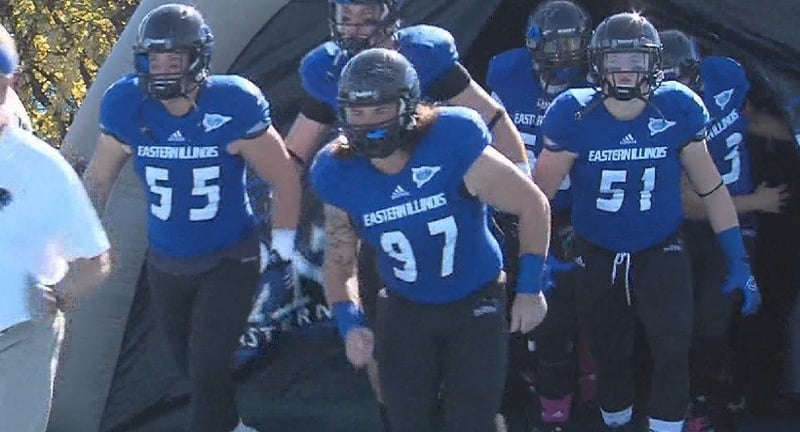 CHARLESTON, SC - Eastern Illinois senior defensive tackle Dino Fanti added one more honor to his list of 2015 accomplishments as he was named the College Football Performance Awards FCS Defensive Tackle of the Year Award Winner. He becomes the third EIU player to win a CFPA position award joining Jimmy Garoppolo and Erik Lora who won awards in 2013 for national quarterback and wide receiver of the year.
Fanti earned first team All-American honors by the American Football Coaches Association adding to second team All-American honors by STATS and third honors by the Associated Press. Fanti (Venice, Fla.) was named the co-OVC Defensive Player of the Year this past season as he helped lead EIU to a 16th appearance in the FCS playoffs with a 7-5 overall record, 7-1 in the OVC. Fanti was dominant over the final two weeks of the year earning back-to-back OVC Defensive Player of the Week honors including a National Defensive Player of the Week Award during the win over UT Martin. Fanti finished the year with 63 total tackles including 22 tackles for loss and 7.5 sacks. He had five forced fumbles, nine quarterback hurries, one pass break-up and one fumble recovery. During the year he set both the EIU career and single season record for tackles for loss. Fanti ranked eighth in the FCS in tackles for loss and 41st in sacks.
About College Football Performance Awards:
The goal of College Football Performance Awards is to provide the most scientifically rigorous conferments in college football. Recipients are selected exclusively based upon objective scientific rankings of the extent to which individual players increase the overall effectiveness of their teams.
As prominent scholars from a wide variety of disciplines note, CFPA eliminates the politics and biases that vitiate balloting-based awards. Furthermore, CFPA has received praise from both Republican and Democratic White House officials for promoting objectivity and fairness in college football.
CFPA is now in its eighth season of player and team performance recognition at both the FBS and FCS level. Thirty-three CFPA winners have been first-round NFL Draft selections.