Groce Concerned with Leadership, Toughness Following Illinois' Worst Loss in 25 Years
Posted: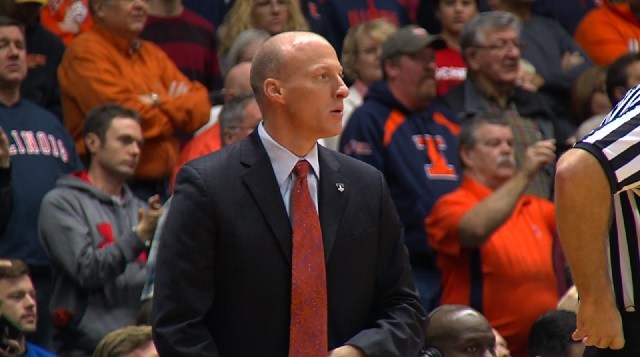 Bloomington, Ind. -- Illinois has a leadership problem, according to their head coach.
John Groce brought up plenty of issues in Illinois' 103-69 loss at Indiana -- from shot-selection, to forcing passes, to a defensive effort he described as "atrocious".
Players weren't made available to the media post-game Tuesday night -- a first in John Groce's time at Illinois. While he praised them as young men and students, he expressed concern over what's happening outside of practice.
"At some point they've got to develop a 'basketball character', and right now that's not where it needs to be at."
Groce noted a coach's role in that, but made clear some of these issues will have to be addressed among the players.
"I remember a coach told me one time - he said, 'do you seriously think we're the primary leaders? We're around them like 3 hours a day,'" said Groce. "Those dudes live together, they go out together, they eat together, they're in the locker room together."
"At some point, there's got to be some leadership inside those locker room walls."
All the Illini could do was watch the show Tuesday. The Hoosiers' win was their 11th straight, and sent them to 6-0 in Big Ten play. As a team, they hit a school-record 19 3-pointers, and starting point guard Yogi Ferrell broke an Indiana record for assists.
It was Illinois' worst loss, in terms of scoring margin, since 1991 when they suffered an 89-55 defeated at Ohio State. Just weeks before, in 1991, Illinois lost at Indiana 109-74.
"I think it was Mike Tyson who said one time, everything's well and good until you get hit in the mouth on the first punch, and then it's on," said Groce. "Right now our guys have got to respond to that a lot better."
The lone sign of life shown by the Illini came during a 10-0 run midway through the first half. It got Illinois within one, but they never had much punch after that.
The Hoosiers responded with a 9-0 run of their own, extended to a 20-4 run to close out the half.
"From there, I thought we cracked," said Groce. "I just didn't think we were tough enough mentally."
Illinois fell to 9-10 and 1-5 in Big Ten play, both worst in John Groce's tenure, and worst since the 2007-2008 season.