Mav in the Middle: Morgan Growing into Increased Role at Illinois
Posted: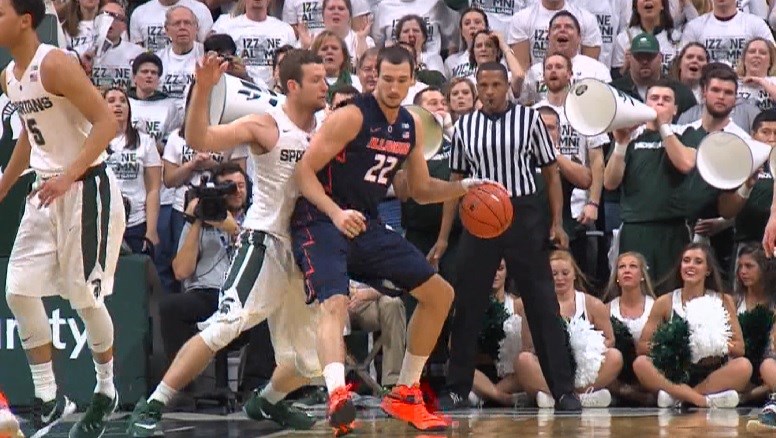 CHAMPAIGN -- Illinois head men's basketball coach John Groce hopes we're just seeing the beginning of the emergence of Maverick Morgan as a Big Ten threat.
A 6'10", 245 pound junior, Morgan is coming off a career night at Minnesota, setting personal highs with 35 minutes, seven rebounds, and 7-of-12 shooting. If Illinois is expected to turn around their season (10-10, 2-5 B1G), they'll have to find a way to battle with the Big Ten's bruisers.
Morgan's performance in Minneapolis was the first sign that he may be able give Illinois consistent minutes at the position.
"I thought he rebounded it well, I thought he finished well, I thought he defended well, I thought he screened well," said Groce.
Illinois' interior presence took a hit in November, when Mike Thorne, Jr. tore his meniscus during a game against Iowa State.
Thorne missed eleven games recovering from surgery, and while Illinois braced for the possibility of losing him for the season, he returned on January 19 at Indiana, giving Illinois 9 points and 9 rebounds in 16 minutes.
He then missed Illinois' game at Minnesota on Saturday.
"It's still day to day with him," Groce said Wednesday. "I wish I could tell you more, but that's the reality of it."
While they looking forward to getting Thorne back healthy, Illinois can't afford to wait out his recovery, and have looked to contain opposing centers by committee, generally asking Morgan and Michael Finke to man the low post.
On Saturday at Minnesota, Morgan played not only his best game at Illinois, but the best by any player, according to the coaching staff's grading system.
"He graded out at over 90 percent. We haven't had a player grade out at over 90 percent playing those type of minutes since (Nnanna) Egwu."
The big difference? Aggression, Groce says.
"He's been encouraged to be aggressive for some time," he said. "That's great progress, because he's got tools. He's got size, he's got hands, he's got a body. I'm anxious to see what (strength coach Adam Fletcher) can do with him with a full year. Fletch just showed up in the fall. I think he'll really have a different body type or disposition in a year from now, and I'm excited about that as well."
Whether or not Morgan can be consistent enough to give Illinois a reliable front court in the short term remains to be seen. He's only played 20+ minutes in a game four times in his career.
"What that guarantees for Thursday (vs. Ohio State)," said Groce, "is absolutely nothing. You've got to have the same type of prepration here this week, and get yourself ready to go on Thursday."
Illinois will play the Buckeyes for the 2nd time this month Thursday, trying to avenge a 75-73 loss in Columbus on January 3. Thursday's game tips off at 8pm CT at State Farm Center.