National Signing Day: Local Athletes Who Signed & Where They're Headed
Posted: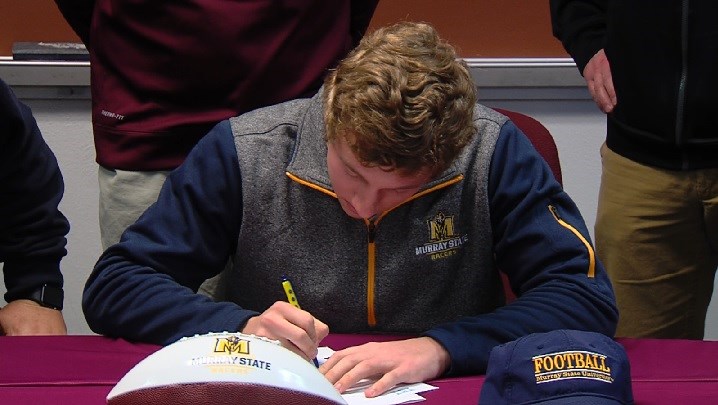 National Signing Day saw thousands of high school athletes sign their letters of intent to continue their athletic careers in college. Central Illinois had their share put pen to paper on Wednesday.
Below is a list of local athletes who signed with their respective colleges. While we do our best to get to as many signings as possible, we often need the public's help in adding to the list. If you know - or are - an athlete signing with a college or university, let us know!
You can tell WAND sports director Matt Loveless on Twitter, Facebook, or via email at matt.loveless@wandtv.com. You can also post on the WAND Friday Frenzy Facebook page, or on our station page at WAND Newscenter 17. Thanks and good luck to our local athletes!
FOOTBALL
| | | |
| --- | --- | --- |
| NAME | HIGH SCHOOL | COLLEGE |
| Julian Hess | Centennial | Eastern Illinois University |
| Kendall Dehority | Eisenhower | Quincy University |
| Salat Al-Nurridin | Eisenhower | St. Joseph's College |
| Colton Lockwood | Eisenhower | McKendree University |
| Jacob Burton | Monticello | McKendree University |
| Brandon Wildman | Monticello | Truman State University |
| Albert Okwuegbunam | Sacred Heart-Griffin | University of Missouri |
| Sam Bonansinga | Sacred Heart-Griffin | Southern Illinois University |
| Avery Andrews | Sacred Heart-Griffin | Western Illinois University |
| John Fischer | Sacred Heart-Griffin | Columbia University-New York |
| DJ Mackey | Sacred Heart-Griffin | Iowa Central Community College |
| Lance Winkler | Sacred Heart-Griffin | Lindenwood-Belleville |
| Sam Boeyen | Sacred Heart-Griffin | St. Ambrose University |
| Eli Oltean | St. Joseph-Ogden | Murray State University |
| Laquan Price | Southeast | Quincy University |
| Cole Hoover | Charleston | Eastern Illinois University |
| Joe Brannan | Jacksonville | Northwest Missouri State University |
| Braxton Criss | Jacksonville | St. Ambrose University |
| Noah Pickens | Jacksonville | Illinois College |
| Matt Rooney | Jacksonville | MacMurray College |
| Dan Zeigler | Rochester | Truman State University |
| Brandon Jones | Rochester | Truman State University |
| Collin Etherton | Rochester | St. Ambrose University |
| Wyatt Fishel | Arcola | Truman State University |
BASEBALL
| | | |
| --- | --- | --- |
| John Plattner | Sacred Heart-Griffin | Kaskaskia Community College |
| Jack Staten | Sacred Heart-Griffin | Lincoln Land Community College |
| Tyler Jones | Monticello | Illinois Central College |
GIRLS SOCCER
| | | |
| --- | --- | --- |
| Ashley Cearlock | Sacred Heart-Griffin | Creighton University |
| Megan Herter | Sacred-Heart Griffin | Wheeling Jesuit University |
| Baylee Smith | Rochester | Quincy University |
| Elizabeth Siebert | Mt. Pulaski | Lakeland College |
| Farah Abu-Tayeh | Williamsville | Marshall University |
| Marah Abu-Tayeh | Williamsville | Marshall University |
| Madi Allen | Jacksonville | Hannibal-Lagrange University |
| Sarah James | Jacksonville | Hannibal-Lagrange University |
| Claire Cody | Jacksonville | Indiana U.-Purdue U. Fort Wayne |
| Maddie Gleeson | Rochester | Southeast Missouri State University |
| Becca Jostes | Rochester | SIU-Edwardsville |
BOYS SOCCER
| | | |
| --- | --- | --- |
| Mark Wilson | Jacksonville | Bradley University |
SOFTBALL
| | | |
| --- | --- | --- |
| Gracie Brookens | Meridian | Millikin University |
VOLLEYBALL
| | | |
| --- | --- | --- |
| Kira Jackson | Maroa-Forsyth | Illinois Wesleyan University |
| Ariel Campbell | Cerro Gordo-Bement | Eureka College |