Illini Get 22 on Signing Day, Bringing 2016 Class Total to 25
Posted: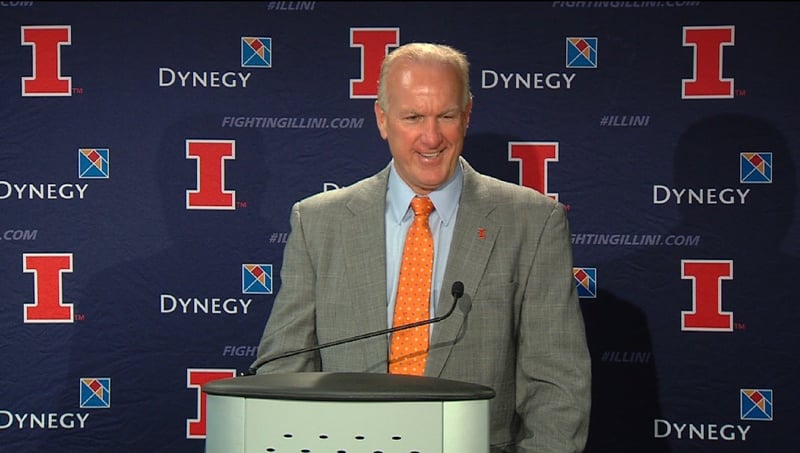 CHAMPAIGN -- Illinois unveiled their 25-man recruiting class Wednesday, one Scout.com ranks at the 60th in the country, and 12th in the Big Ten.
"I don't really care about stars. I don't care about where the rankings are. I just care about the guys that we got," said Cubit.
Much of the 2016 recruit class came on late, as Illinois got eight verbal commitments over a three day period starting Saturday.
At his signing day press conference, Cubit talked about the changing world of recruiting, and the fact that there are fewer and fewer secrets, even as national letters of intent start coming in.
"I think there was like 7 or 8 kids that flipped this morning," said Cubit, "so it's an ever-changing world, and you've just got to stay up top with it."
Illinois is in a unique situation, having to recruit with a staff on a short-term deal. Cubit was given a 2-year contract in November, admittedly offered as a bridge to let the next athletic director decide what to do with football.
Cubit knows that was a bargaining chip for those recruiting against Illinois, and it's something they contended with regularly during visits.
"I brought it up," said Cubit "I said, 'Last year when I was an interim everybody didn't think I'd be standing here. I outlasted 20 (other coaches). And I'll outlast 20 of them next year.'"
"We took a proactive approach with it. It's one of those things that you can't change," said offensive coordinator Ryan Cubit, "Our goal was just to get them up on a visit, because we knew we had a lot here."
If you are into star ratings, no recruit on the list is rated as more than a 3-star. The most notable in the bunch is linebacker De'le Harding, rated as the top LB in the state of Maryland, and 23rd overall by Scout. Harding originally committed to Michigan, and also had offers from the likes of Tennessee, Southern Cal, and Rutgers.
"These guys were truly hand-picked guys that we went out and found," said defensive coordinator Mike Phair. "Yeah, some of them we found a little later, but guys that we found, we have hand-picked with exactly what we were looking for. And like coach said, if a guy fell through, we have another guys sitting there ready for him."
Illinois provided highlights videos for each player in the 2016 class, which can be found here.