EIU Adds 13 in 2016 Recruiting Class
Posted: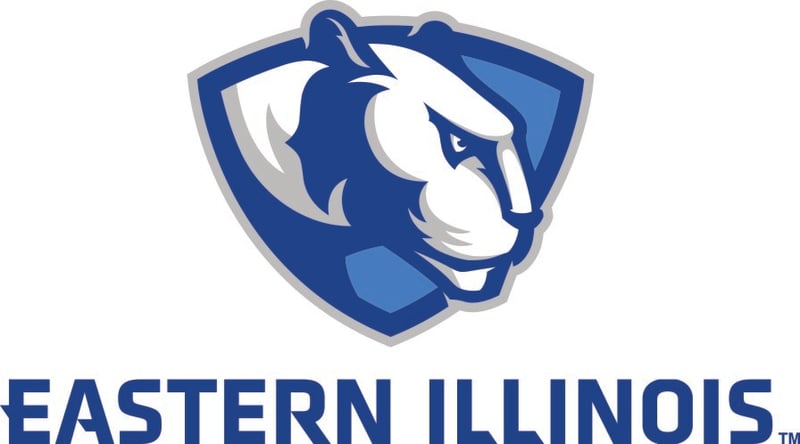 CHARLESTON, Ill. (via EIU Athletics) - Eastern Illinois football addressed some areas on the Panthers football team depleted due to graduation as head coach Kim Dameron announced the 2016 Eastern Illinois Football Signing Class. EIU made its 16th FCS playoff appearance last season finishing the year at 7-5 and ranked No. 23 in the FCS Coaches Poll. The Panthers have made the FCS playoffs in three of the past four seasons. On Wednesday, first day players can sign National Letters of Intent, EIU announced 12 high school players and one four-year transfer players that will join the EIU program next year.

"We are proud of the class that we brought in this season. This was our second full year of recruiting for EIU and third overall after we put this staff together," said Dameron. "Our staff went out with three objectives in terms of bringing young men into our program. 1.) Guys who could run. 2.) Guys who had high character. 3.) Guys who have a passion to learn and earn a degree from Eastern Illinois. We accomplished all of those objectives with this group of players. We were heavy on defensive backs in this initial group but we had to replace four guys from those spots from last year. We brought in four guys from Illinois and once again reached into the Ft. Lauderdale / Miami area where EIU has had success in the past. This is the first day of signing for national letters of intent, but recruiting for us never stops and we intend to bring in a few more high quality players to compete at EIU."

The Panthers will open the 2016 season at home on Thursday, September 1 hosting Western Illinois. The Panthers also have home Ohio Valley Conference games with Austin Peay, Tennessee State, Murray State and UT Martin. EIU plays on the road this year at Miami (Ohio), Illinois State, Southeast Missouri, Tennessee Tech, Jacksonville State and Eastern Kentucky.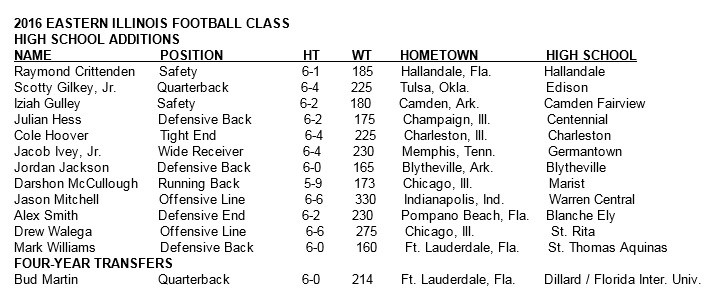 HIGH SCHOOL SIGNEES
Raymond Crittenden (6-1, 185, SAF, Hallandale, Fla./Hallandale HS) – Played for coach Dameon Jones at Hallandale HS… helped team advance to the Florida Class 5A state playoffs as a senior finishing year with a 10-3 record… also ran track placing fourth in Florida Class 2A state track meet in the 300m hurdles as a junior…
Scotty Gilkey, Jr. (6-4, 225, QB, Tulsa, Okla./Edison HS) – Played senior season at Edison HS in Tulsa, Okla... son of former EIU tight end Scott Gilkey… as a senior passed for 1,700 yards, rushed for 560 yards and scored 21 total touchdowns… rated a 3-star recruit by Rivals.com… as a junior started three games at Broken Arrow HS… played freshman season for his dad at Pawhuska HS…
Iziah Gulley (6-2, 180, SAF, Camden, Ark./Camden Fairview HS) – Played for coach Mike Cox at Camden Fairview HS… finished senior season with 58 total tackles (38 solo)… had three forced fumbles, one tackle for loss and one interception… helped team advance to Class 5A state playoffs as a senior…
Julian Hess (6-2, 175, DB, Champaign, Ill./Centennial HS) – Played for head coach Lekevie Johnson at Centennial HS… played on both sides of the ball but will move to defense at the college level… had 28 catches for 571 yards and seven touchdowns as a senior during the regular season… helped team advance to the IHSA Class 6A state playoffs… added 42 tackles on defense as a senior…
Cole Hoover (6-4, 225, TE, Charleston, Ill./Charleston HS) – Played for coaches Tim Hogan and Brian Halsey at Charleston HS… son of late EIU offensive line coach Jeff Hoover… played both tight end and linebacker at CHS earning second team All-Apollo Conference honors at linebacker as a senior… led CHS with 62 tackles as a senior…
Jacob Ivey, Jr., (6-4, 230, WR, Memphis, Tenn./Germantown HS) – Played for coach Chris Smith at Germantown HS in the Memphis, Tenn. area… also played standout basketball players… member of AAU Division II National Championship team during summer…
Jordan Jackson (6-0, 165, CB, Blytheville, Ark./Blytheville HS) – Played for coach Ben Fisher at Blytheville HS… was a lock down corner that earned 5A East All-Conference honors three times… helped team advance to Arkansas Class 5A playoffs… as a senior had 38 tackles with 14 pass break-ups and one interception… added five rushes for 128 yards… advanced to state track meet in the 4x100 relay as a junior…
Darshon McCullough (5-9, 173, RB, Chicago, Ill./Marist HS) – Played for coach Pat Dunne at Marist HS in Chicago… rushed for 614 yards and eight touchdowns averaging 5.0 yards per carry as a senior… split time at wide receiver hauling in 69 passes for 1,116 yards and 12 touchdowns… led team in all-purpose yard at 133.1 yards per game… had two 100-yard rushing games and five 100-yard receiving games with one game at 209 yards… helped team reach IHSA Class 8A State Championship game as a senior finishing year with a 9-4 record… caught six passes for 113 yards in championship…
Jason Mitchell (6-6, 330, OL, Indianapolis, Ind./Warren Central HS) – Played for coach Jayson West at Warren Central HS… blocked for offense that averaged 210 yards rushing and 190 yards passing per game… team went 8-4 during senior season advancing to the Indiana Class 6A state quarterfinals… earned honorable mention All-Central Indiana honors…
Alex Smith (6-2, 230, DE, Pompano Beach, Fla./Blanche Ely HS) – Played for coach Nakia Jenkins at Blache Ely HS in Pompano Beach, Fla… began career as a running back switching to defensive end as a senior… earned honorable mention All-Broward County honors as a senior…
Drew Walega (6-6, 275, OL, Chicago, Ill./St. Rita HS) – Played for coach Todd Kuska at Chicago St. Rita HS… helped team advance to IHSA Class 7A playoffs a junior… big, physical offensive lineman that played tackle…
Mark Williams (6-0, 160, Defensive Back, Ft. Lauderdale, Fla./St. Thomas Aquinas HS) – Played for coach Roger Harriott at St. Thomas Aquinas HS… son of former NFL corner back Darryl Williams… helped team win back-to-back Florida Class 7A State Championship as a junior and senior with team going 27-2… had 30 solo tackles as a senior with six pass break-ups and two interceptions… earned honorable mention All-Broward County as a senior…
4-YEAR TRANSFERS
Bud Martin (6-0, 214, QB, R-So., Ft. Lauderdale, Fla./Dillard HS/Florida International Univ.) – Transfer from Florida International University… redshirted 2014 season and did not play in 2015… played at Dillard HS… earned an invite to the US 2012 Army All-American Underclassmen combine… finished in the top three at the U.S. Army Junior Combine in San Antonio, Texas in 2013… also finished in the top five at the Chicago Regional Elite 11 out of 100 quarterbacks, to go along with winning the Golden Gun Accuracy Award…