Christian Williams Enjoying the Ride with No. 5 Iowa
Posted: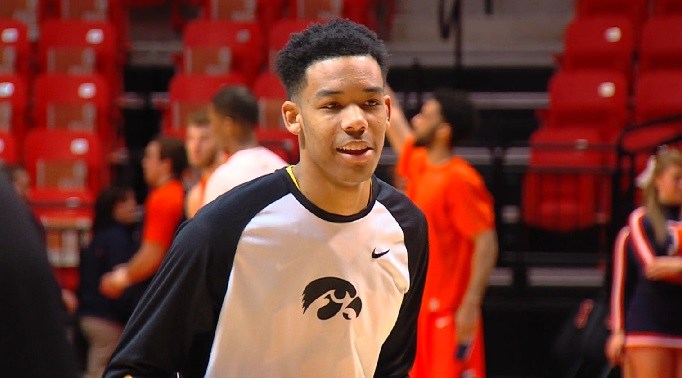 CHAMPAIGN -- A year ago, Christian Williams was a win away from an Illinois state title.
Suffice it to say, the aspirations are even higher for the Iowa freshman in 2016.
"We're playing really well," said Williams, whose Iowa Hawkeyes are ranked 5th in the country. "Every day we work on motion and trying to share the ball with each other and we're just trying to get each other better every day."
"We're on a mission."
The St. Teresa High School grad is enjoying the ride with the Iowa, which beat Illinois 77-65 in Champaign on Sunday. Iowa improved to 19-4 and 10-1 in the Big Ten.
Williams didn't see playing time Sunday, as the Illini kept it just close enough late, but with some friends and family in the stands, he said he took in the experience.
"It feels good being back home," he said. "Hopefully next year I'll get my chance."
St. Teresa finished 2nd in Illinois' 2A playoffs in 2015, capping a stellar career for Williams, who garnered plenty of attention from college recruiters early on.
Notably, he wasn't offered by Illinois. Even sitting on the bench, he remembered that fact.
"Most definitely. I know a couple of those guys, playing AAU with them, especially (Michael) Finke," said Williams. "It kind of put a chip on my shoulder playing against them."
Williams has seen action in parts of 13 games for the Hawkeyes, generally in mop-up duty of blowout wins.
He said Sunday, this season has been about honing the raw skills he brought with him to Iowa City.
"I've been working on my shooting a lot with the coach that recruited me," said Williams. "That's pretty much the main thing, and ball handling as well."
The opportunities are there, as Iowa is ending up on the right side of big wins plenty this season. The Hawkeyes are ranked in the top 5 nationally for the first time since 1989.
In a year when no elite team has really separated itself from the rest, the Hawkeyes are a legitimate national championship contender.
Williams just wants to do his part.
"It's been pretty interesting," Williams said. "We're looking to keep it rolling."