UPDATED: Former Decatur Police Chief Sues City, City Manager
Posted:
Updated: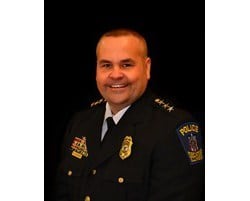 UPDATE - A motion to dismiss a lawsuit pertaining to the termination of former Decatur Police Chief Brad Sweeney has been filed in Macon County Court.

Included in the motion to dismiss is an affidavit of Decatur City Manager Tim Gleason, which can be viewed here. A copy of Decatur Police Chief Brad Sweeney's lawsuit can be found here. According to Sweeney's lawsuit, his termination was allegedly retaliatory, and that the termination allegedly violated the Illinois Whistleblower Act. However, in the affidavit, Gleason says there were many reasons Sweeney was terminated, and that those reasons were allegedly brought to Sweeney's attention.

We will provide more updates as they become available.
-------------------------------------------------------------------------------------------
UPDATE - WAND News has learned former Decatur Police Chief Brad Sweeney has filed a lawsuit against Decatur City Manager Tim Gleason and the city of Decatur.
In his complaint, Sweeney alleges that he was fired in retaliation for his actions in three cases:
First, Sweeney alleges that, in May 2015, Gleason told him to provide a police car and uniformed officer to drive him to an airport in St. Louis to catch a plane for a vacation after the State of the City breakfast. Sweeney claims that he initially told Gleason that would not be appropriate but that Gleason then "ordered" the police chief to provide the car and officer. According to the complaint, Sweeney provided the car and officer for five hours but later met with Gleason and "advised Gleason that his use of a police car and driver for his personal purposes was improper and insisted that it could never happen again." The complaints also cite "recent public statements" by Gleason that "he was given permission by now-deceased Mayor McElroy to use a Decatur Police vehicle for his personal transportation to the St. Louis airport."
Second, Sweeney alleges that, on January 26, Gleason asked Sweeney to make a public statement at the February 1 City Council meeting in favor of a local motor fuel tax. According to the complaint, Sweeney refused to make a public statement and Gleason "responded with hostility, and he told Sweeney to leave his office."
Third, Sweeney alleges that at a February 2 meeting with Gleason and other city department heads, Sweeney said that he opposed a further tax increase and that there were other potential revenue sources. "Gleason immediately became furious and ordered Sweeney to leave the staff meeting," according to the complaint. "Later, on February 2, and again on February 3, 2016, Gleason impliedly threatened Sweeney with loss of his job by asking him: "Do you know who you work for? and "Do you want to keep your job as Police Chief?"
The complaint claims that the city violated the Illinois Whistleblower Act. Sweeney is seeking reinstatement, back pay with interest, compensation for an anticipated reduction in pension benefits, and compensation for court costs and attorneys' fees.
City Manager Tim Gleason says he has no further comment regarding the lawsuit, although in an interview last week, he said "The decision that was made ... by me to eliminate Brad Sweeney is closed. There were several reasons, and even Brad, the day he was dismissed, said he understood. So I am surprised by the comments he is making today because the allegations are not remotely close to the reason he was terminated."
We will provide more information as it becomes available.
-----------------------------------------------------------------------------------------------------
DECATUR - WAND News first reported on Thursday, February 4th, The Decatur City Manager terminated Police Chief Brad Sweeney. Sweeney's attorney Jon Robinson now says Sweeney plans to file a lawsuit against the city next week.
City Manager Tim Gleason told WAND there were several reasons for Sweeney's dismissal; Gleason also says Sweeney acknowledged he understood the reasons for his termination.
Gleason also said Sweeney has made allegations against him and his role as City Manager but Gleason says they are false.
He says if the case were to go to court he is positive the court will "stand on the firmest ground in the termination of Brad Sweeney." As for the specific reasons for the termination Gleason said "It is a personnel matter, I know nobody likes hearing a government official saying that but that's the reality we live in and I have to protect the city because this potentially litigious."
Sweeney's attorney declined to go into specifics of the lawsuit but he confirmed they plan to file the lawsuit next week.
Current Events

More>>

Wednesday, March 7 2018 12:29 PM EST

2018-03-07 17:29:46 GMT

INSIDE: Find the officials rules for WAND-T VShedRain Umbrellas sweepstakes.

More \232a

INSIDE: Find the officials rules for WAND-T VShedRain Umbrellas sweepstakes.

More \232a