Malcolm Hill, Nearly a Late Scratch, Comes Up Big vs. Rutgers
Posted: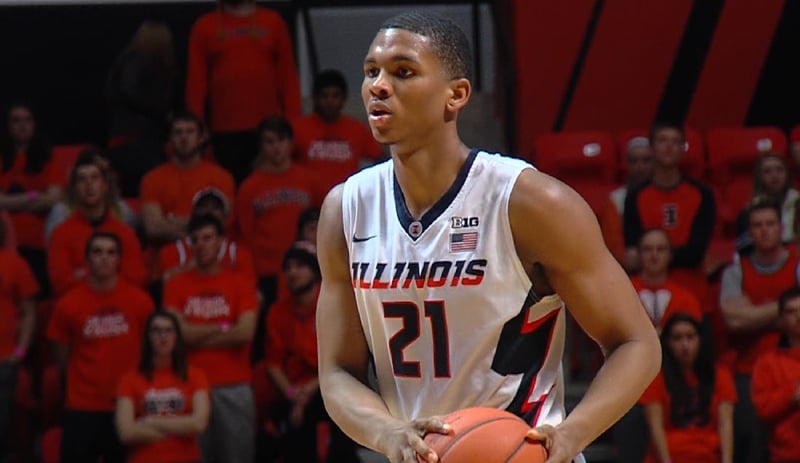 CHAMPAIGN - It was an hour to an hour-and-a half-before tip-off, and John Groce said he didn't know if his star guard would be ready to play.
Malcolm Hill, who is the Big Ten's 3rd-leading scorer (18.5ppg), injured his hamstring at practice before Illinois' matchup against Rutgers. He was visibly uncomfortable during warm-ups.
At the end of an 82-66 win over the Rutgers Scarlet Knights - Illinois' most lopsided win of the season - Hill scored a game-high 22 points and added 10 rebounds for his 7th double-double of the season.
"My teammates said I was faking the whole day," he joked.
Quickly turning serious, he added, "it's just a mindset thing."
If it was a sheer matter of will, it was an important one, as Hill's duties have increased for the Illini in the last week. After taking a majority of point guard minutes in a loss at Northwestern, he again shared time at the position. In the end, the hobbled Hill led Illinois with 32 minutes of floor time.
"Malcolm showed some courage today," said coach John Groce, who was not sure if he'd have Hill until, at the earliest, 90 minutes before the game started.
Hill brought the relatively small State Farm Center crowd to life on a few occasions, sinking a near-halfcourt shot-clock-buzzer-beater in the 2nd half, and later letting out a primal scream following a dunk to put Illinois up by 19.
Hill credited adrenaline for his ability to play through the pain.
"Whenever the ball tips I just tell myself I'm 100%," he said, "because that just makes me not think about it. That's why I was able to play with a lot of energy."
Illinois gets a four day break to heal up between games, before traveling to play Wisconsin on Sunday.