Whitman Makes Strong First Impression, Pleads for Patience in Rebuilding Athletics
Posted: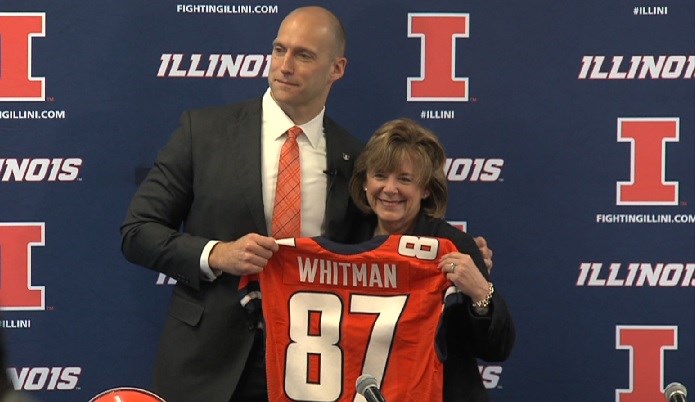 WATCH: JOSH WHITMAN'S INTRODUCTORY PRESS CONFERENCE
CHAMPAIGN -- There was no lack of superlatives at Josh Whitman's introductory press conference Thursday.
University of Illinois interim Chancellor Barbara Wilson went so far as to say she was looking for someone who walks on water, claiming she got him.
"Realizing," Wilson recalled, "as I heard his answers to my questions, that I was looking at the next athletic director right there."
Talk about high expectations.
Introduced as the 14th Illinois athletic director, Whitman struck all the right chords Thursday, in a charismatic and confident introductory press conference.
Laying out his three main goals, Whitman, 37, said they wanted to change the lives of student athletes, inspire Illini nation to buy in, and, the most important for a battered fanbase: "We will win," he said, "That's what everybody's thirsty for."
Whitman played for Illinois from 1997 to 2000, and frankly, looks like he could still win a couple of one-on-ones in the endzone. At one point, he referenced a helmet with an outdated Illinois logo sitting at the table next to him. It was from his playing days, and Whitman said it's accompanied him to every desk he's occupied.
"That paint," said Whitman, noting scuff marks across the sides of the helmet. "I didn't put that on there with a brush. There's a lot of work and a lot of pride that comes with this opportunity for me."

Now the work begins, the most scrutinized of which will be his decisions in regards to the football and basketball programs.
Whitman said he plans on meeting with all the coaches in the coming week, meetings that, for now, he considers simple meet and greets.
"It really is, at this point, just about listening, for me," Whitman told WAND, "and trying to get a sense of the landscape, and really put together all the pieces so I can get a complete picture of what this place is."
The tough decisions will follow, something Whitman said he doesn't shy away from -- but in the end, he pleaded for patience.
"I'm not the savior of Illinois athletics. I don't walk on water," he said, cooling that high praise heaped upon him by Wilson. "I think a strength of mine is to get the right people in a room to ask the right questions, then to identify the best ideas, which almost inevitably don't come from me."
Whitman said his last day as A.D. at Washington University-St. Louis is tentatively March 4. He'll work between Champaign and St. Louis in the interim, with a target start at Illinois on March 21.
Watch our full one-on-one interview with Whitman below, as well as thoughts shared by Dee Brown, and a handful of current Illinois coaches.