Strong winds sweep through Midwest, Wind Advisory in effect
Posted: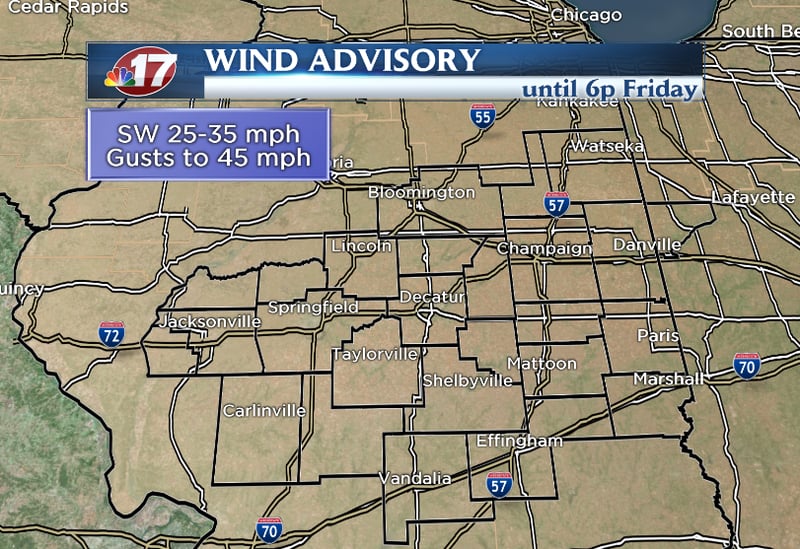 CENTRAL ILLINOIS -- A Wind Advisory is in effect today as strong winds sweep across the Midwest.
The National Weather Service office in Lincoln, Ill. has issued the advisory which remains in effect until 6 p.m. Friday. Winds could reach 45 or even 50 miles per hour which will make driving difficult, especially in high profile vehicles like SUVs. Because winds will be out of the southwest, impacts will be felt moreso along east to west facing roads such as I-74, I-72 and I-70.
The gusty conditions aren't just affecting central Illinois. The entire states of Illinois, Iowa, Indiana and South Dakota, along with parts of Missouri, Tennessee, Kentucky, Ohio, Michigan, Wisconsin, Minnesota, Nebraska, Wyoming and Montana are under a Wind Advisory or Wind Warning. The fastest winds are expected across eastern Montana and western South Dakota where gusts are forecast to top out over 60 miles per hour.
StormCenter17 Meteorologist Adam Del Rosso says the winds are to credit for the unusually mild temperatures in place today. He says highs will climb into the mid-to-upper 60s across central Illinois this afternoon, possibly setting new records.
By tonight, the winds calm down; however, the warm air stays in place this weekend with temperatures in the 50s and 60s.
Be sure to watch WAND-TV or check back with www.wandtv.com/weather for any updates to the forecast.