Illinois Baseball Takes Walk-Off Loss in Extras in Wild Season Opener
Posted: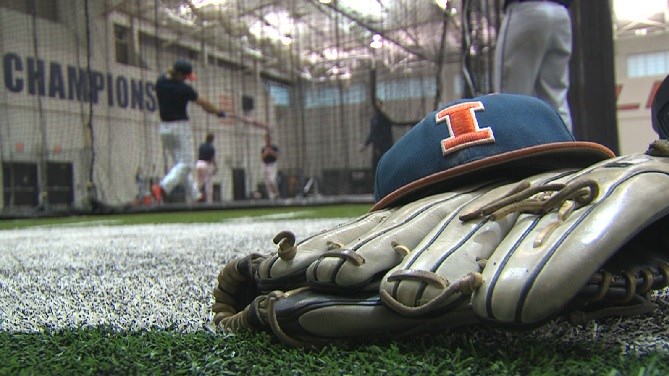 NEW ORLEANS (via Illinois Athletics) – The Illinois baseball team looked like it had found a way to win its 2016 opener with five runs in the ninth and 10th innings combined, before a three-run home run from Jeremy Montalbano gave No. 19 Tulane a 6-5 victory in walk-off fashion in the 10th inning. All five Fighting Illini runs came after trailing 2-0 when down to their last out in the ninth inning.
"It was a well-played game in a lot of areas, and then there were a lot of mistakes made," said head coach Dan Hartleb. "You have to give them credit. We bounced back in the ninth inning to tie it up and get three big runs in the 10th and their guys didn't quit, they found a way to win the game."
Montalbano's blast came off of Nick Blackburn (0-1), who had walked two and gave up a single to start the 10th inning. The shot hit the flag pole just to the left of the 400-feet marker on the wall to end the Fighting Illini's comeback bid.
Illinois (0-1) used four doubles in its last two at-bats to pull ahead. Trent Hammond, Anthony Drago and pinch hitter Dan Rowbottom all doubled in the ninth to tie it up 2-2. Rowbottom's clutch liner to right field capped the rally.
Mark Skonieczny's two-run double down the right field line in the 10th gave the Illini its first lead and Caleb Kyle added an RBI single to make it 5-2. All four doubles were the first career extra-base hits for the respective Illini.
Illinois ace Cody Sedlock looked good in his first outing as the No. 1 starter. The top-40 prospect went 6.0 innings, while giving up two runs – one earned – and striking out 10.
Freshman Cole Bellair and redshirt freshman Quinten Sefcik each tallied scoreless frames to get Illinois to the ninth, where Blackburn struck out the side on 13 pitches. Illini pitchers combined for 15 strikeouts and just three walks.
The Illini bats were quiet for the first 26 outs, mounting only two real scoring threats – one after an Adam Walton triple – that both turned up empty. Tulane's Corey Merrill went 6.0 shutout frames while giving up three hits and striking out seven Illini.
Tulane (1-0) could not find a consistent reliever, as Illinois had seven of its 10 hits off of the Green Wave's bullpen. Trevor Simms (1-0) claimed the win by getting the last out of the 10th after giving up three hits and getting two outs. Illinois scored twice off of J.P. France and three times off of Patrick Duester.
The two teams meet against tomorrow at 4 p.m. CT. Illinois is set to start lefty Doug Hayes against Tulane right-hander Alex Massey. The game will air live on the radio on the Fighting Illini Sports Network and live video will be available for purchase at TulaneGreenWave.com.