Illini Rally Late to Win Series Finale vs. Tulane
Posted: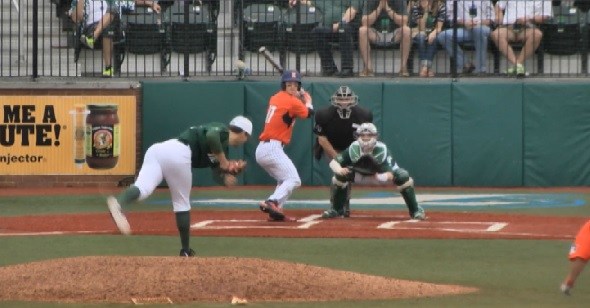 NEW ORLEANS (via Illinois Athletics) – The Illinois baseball team scored five runs on seven hits over the final two innings Sunday to upend No. 19 Tulane, 5-2, at Turchin Stadium. Jason Goldstein led the way with three hits, including a go-ahead two-RBI single in the eighth, and the pitching kept the Illini in the game for the third straight day.
"That's a big win for us," said head coach Dan Hartleb. "We scuffled a little bit early again. From a hitting standpoint, we weren't very good early but we found away to push some runs across the plate late."
Illinois (1-2) rallied with three runs in the eighth, all with two outs, and added two more insurance runs in the ninth. The top three in the batting order – Adam Walton, Michael Hurwitz and Goldstein – each singled with two outs in the eighth to give the Fighting Illini their first lead. Walton, Hurwitz and Goldstein combined to go 6 for 12 in the game.
Matthew James' two-RBI double to the right center gap in the ninth widened the difference and gave closer Nick Blackburn some breathing room.
Mamlic (1-0) was solid in the first 5.2 innings before being pulled in favor of a lefty-lefty situational matchup and the bullpen combination of J.D. Nielsen and Blackburn finished off the Green Wave. Mamlic, a senior right-hander, used an impressive arsenal of off-speed pitches to allow six hits and one run, while striking out six
"I was really pleased with Andrew (Mamlic)," Hartleb said. "He has made a step forward and I thought he really competed well. He pitched with composure, so I'm really pleased with the way he went out today."
All of the Illini's runs came off of the Tulane (2-1) bullpen, after starter Emerson Gibbs went 6.1 innings while allowing three hits. Five pitchers came in relief for Tulane, none going for more than two outs.
Tim Yandel (0-1), who allowed all three eighth-inning runs, was tagged with the loss.
Illinois travels to Florida Gulf Coast for a three-game series next weekend.