UPDATED: Winter storm cripples drivers in central Illinois
Posted:
Updated: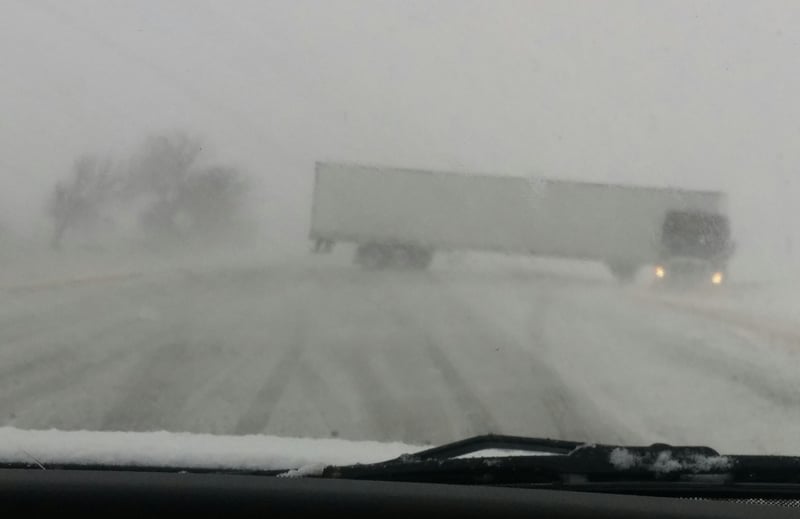 CENTRAL ILLINOIS - Be safe out there.
Blinding snow, winds, and slick roads are combining to make tortuous conditions for drivers in central Illinois.
Dozens of schools and businesses are closed. Dozens of accidents have been reported. Worse yet, the situation isn't going to get better immediately.
A number of churches have canceled services tonight. Please contact your church to see if it is one of them.
WAND News has learned there are so many vehicles in the ditch on 121 between Warrensburg and Decatur that they are being shuttled to the Warrensburg Fire Department.
(UPDATE 6:12 PM)
Troopers in District 10 have responded to 229 incidents from Midnight until 5:30 PM. The number of incidents include crashes, vehicles in the ditch, stranded motorists, and calls for service.
Roadways in District 10 are still snow/ice covered in many areas. Drivers are advised to use caution if they choose to drive this evening.
The Illinois State Patrol also issued a series of alerts:
I-72 WB at the 179.5 is now open (3:00 PM)
I-57 SB at MP 192 is now open (3:00 PM)
There are multiple crashes on I-72 WB between Champaign and Piatt County blocking lanes, but traffic is able to get by on the right shoulder. There is still a large amount of ice and snow on I-72 in the westbound lanes.
There are multiple crashes on I-72 WB between Champaign and Piatt County blocking lanes, but traffic is able to get by on the right shoulder. There is still a large amount of ice and snow on I-72 in the westbound lanes.
Troopers are on scene of multiple semis stuck in the roadway on IL Route
47 between US Route 136 and Champaign County Road 2600 North with white-out conditions. The roadway is expected to be blocked for several hours.
Power lines are down across all lanes of I-57 south of MP 184 in Coles County. This is confirmed and traffic is being diverted southbound at MP
184 and northbound and MP 177 (Neoga). Avoid this area.
I-57 between 184 and 177 is back open.
I-72 has 2-3 foot snow drifts in the Macon and Piatt County area.
I-72 and I-74 continue to be an issue. Motorists are still crashing and sliding into the ditch.
I-57 crash at milepost 181 with injuries.
We are suggesting Emergency Travel Only.
District 10 Troopers are being assisted by Conservation Police, Secretary of State Police, Illinois Commerce Commission Police, State Police Investigations, and Traffic Crash Reconstruction Troopers as well as County and City Officers.
Drivers may be stranded in stalled traffic or in the ditch for hours. If they choose to travel, be prepared with a survival kit and a full tank of fuel.
Multiple vehicles still traveling without headlights.
There are numerous other accidents.
Decatur Interim Police Chief James Getz issued a press release urging drivers to be careful.
"If you do have to drive please slow down and allow yourself enough time to brake, " he said. "Also, we suggest leaving earlier for your destination so you do not have to get in a hurry. Have a proper supply of fuel in your car and warm weather gear in the chance you get stuck in the cold. For emergencies call 911 and for non emergencies call 424-2711. Please Stay Safe!"
FROM CHAMPAIGN:
Snow has started in earnest and is forecast to continue through the evening and into the overnight hours. 6 to 10 inches can be expected with the possibility of isolated higher amounts. In addition, winds will gust to around 45mph at times resulting in possible whiteout conditions and blowing and drifting snow, especially in rural areas.
Visibility may be greatly reduced today so it is suggested that travel be curtailed. If you must travel, make sure someone knows where you are going, the route you will take and your expected arrival time. Make certain mobile phones are fully charged and that you have your winter survival kit in your car. Start your trip with a full tank of gas.
If you do find yourself stuck in a rural area REMAIN WITH YOUR VEHICLE and run the engine for about 10 minutes every hour to stay warm after making sure the exhaust pipe is clear of snow.
Be aware of later statements on road conditions and please observe any reported road closures. Be aware that emergency responders may be tied up for some time with multiple calls. Do not call 911 except in an emergency. State highway road condition reports .