Back to Normal: Raiders Ready to Defend State Title
Posted: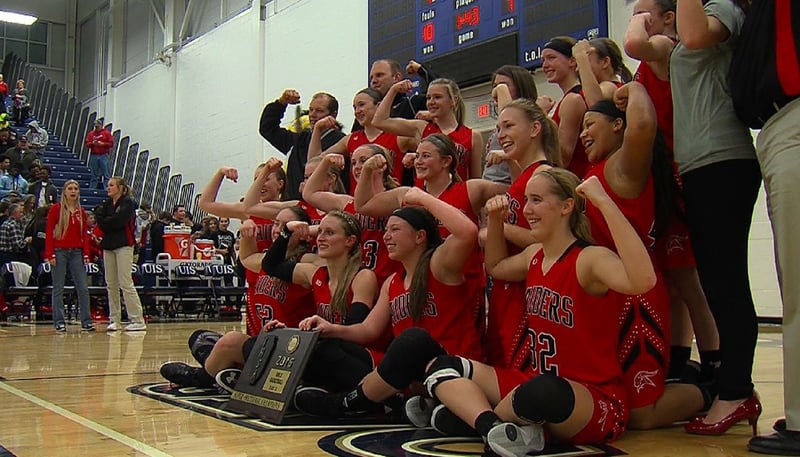 MOWEAQUA -- As the Central A&M girls were raising a 1A super sectional trophy for a third straight year, there was the familiar range of emotions.
Raider senior Ryan Dooley scoffed at the notion that moments like that can ever be dull for such a highly-decorated group.
"It doesn't get boring," said Dooley, who was named to the 1A all-state 2nd team Thursday. However, she added, "it felt a little normal."
Head coach Tom Dooley said he likes the word "normal," but added another adjective.
"It's exciting," said coach Dooley, whose Raiders are also looking to defend their 1A state title. "Any time you get back to state, validating what you did for the season."
"We're blessed, we're fortunate, and we're going to make the most of it."
"I know when my last game will be," said an ever-smiling Mikah Maples. "That's the best thing you can ask for as a senior."
There's hardly a more accomplished group in IHSA history. In fact, that last time a 1A girls team made three straight state semifinals was in 1990, when Teutopolis (1988-1990) and Hume-Shiloh (1987-1990) were finishing state semifinal streaks.
The Raiders reached last year's semifinals in rather dominant fashion, winning their first five postseason games by an average of 19.8 points, never winning by fewer than 16.
This year's team is winning by an average of 29.6 points in the postseason.
"We've gelled with Emma (Meyer) coming into the picture, and she's really fit in well," said Dooley, referring to the Vandalia transfer, and big time contributor to the Raiders' 2015-2016 season.
"We went about it a different way. I think we do some things differently than last year, but I don't want to compare the two teams. But things went right at the right time."
Things were sort of always going right for the Raiders, who jumped out to a 24-0 record, and never budged from the top spot in the 1A state rankings all season.
But on a rather random Saturday night in January, they got a brief reminder of how quickly it could all go away. The Raiders suffered their first loss of the season, a 55-54 defeat to Pleasant Plains. The Raiders' hopes of an undefeated season vanished.
In fact, it stands as their only loss in a calendar year - the last before that coming on their 2015 senior night.
"It just showed us that we can't look past anybody," said Ryan Dooley. "I think it really helped up know that we didn't want to feel that again. It was awful."
"It's all about how you respond to whatever is was, whether it be a win you played bad in or a loss," added Tom Dooley. "We used that game as a reference point, and a way to reflect and say, 'This is what we remember feeling when we didn't play our best.'"
Plus, they agree, it's better to learn that lesson on a weekend in January than in the postseason.
Their dominant run from then on has led them to a familiar place - Redbird Arena. No other 1A team will be as comfortable in the building as the Raiders, but the talent will be on a level they haven't seen in awhile.
Central A&M drew Indian Creek High School in the semifinals, a team that comes in with a 30-1 record. Indian Creek's star is 6-foot senior Josie Diehl, who - in addition to a stellar scoring career for the Timberwolves - passed the 1,000 rebound mark in her high school career.
"A 6-foot post left-hander that looks really good," said Tom Dooley, a day after looking at film of Indian Creek, "and a 5'10" point guard, so we're going to have our work cut out for us. They look like a fast team. They're talented - and they have 1 loss also."
In three years at state, the Raiders have faced their share of teams that have faster players, more talented shooters, taller girls, and better rebounders.

Those opponents, however, are unlikely to have faced a better team than Central A&M.
"I thought we played a really solid game (Monday) night, but our 3-point shooting was down," said Dooley, reflecting on their 70-52 super sectional win over Brimfield. "Man, if we can put that in, with our rebounding that we had (Monday) night, and our defense, it could be another special year."
Dooley said it, without saying it: A "special year" is one that ends with another state championship trophy.
The seniors, lending some perspective to the last few years, already know they've accomplished something special.
"We've been so successful as this group of seniors," said Maples, "and so it's great to be able to share it with them."
The Raiders and Timberwolves tip off in the 1A state semifinal on Friday at noon.