Wednesday's winter storms brings strong winds and wet snow
Posted: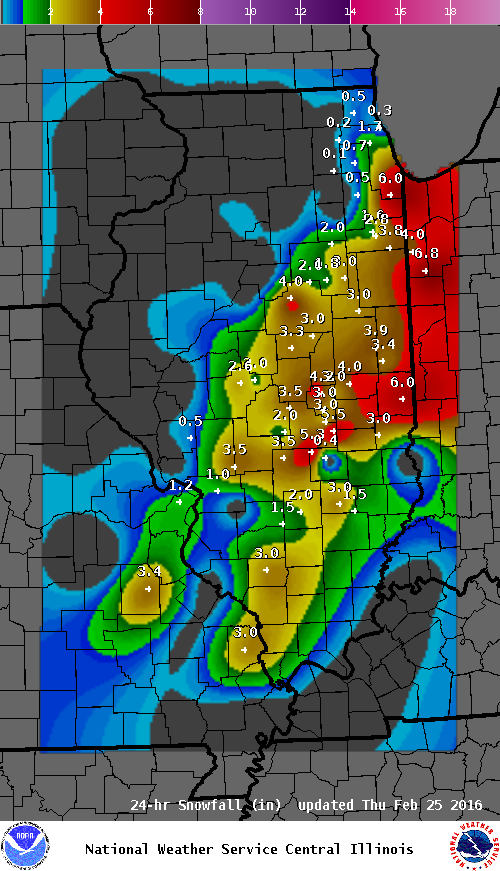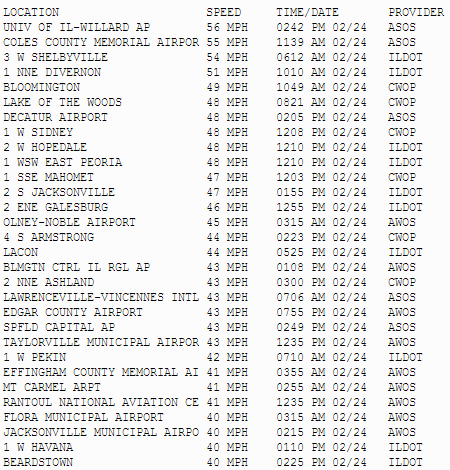 Central Illinois-Wednesday's strong winter storm brought gusty winds, along with wet and heavy snow. White out and blizzard conditions were reported at times, as a wind gust of 56 mph was recorded at Willard Airport south of Champaign around 2:42 PM. This fast moving system dumped most of the snow east of I-55, with the highest accumulations falling along Illinois/Indiana boarder. Due to the limited visibility, strong winds and slick roads Illinois State Troopers in District 10 responded to 229 incidents with one 1 fatal crash. In both Macon and Sangamon counties about 70 cars slide off the road with 10 traffic crash reports. Many roads had to be closed for a period of time to allow for crews to clear accidents and to plow snow drifts off the roadways.
The wet nature of the snow made for a challenge to observers measuring snowfall accumulations accurately. Temperatures remaining above freezing, drifting snow and compaction happening quicker than normal were the challenges observers faced. Here are the official and unofficial reports from the National Weather Service office in Lincoln.
Official reports:    PARIS SEWAGE PLANT       6.0    NEOGA 4NW                5.5    KINCAID 3W               5.4    BEECHER CITY             5.3    NEWTON                   5.2    LOVINGTON                4.2    TUSCOLA                  4.0    NORMAL 4NE               4.0    OGDEN                    3.9    MOWEAQUA 2S              3.5    SIDELL 5NW               3.4    CLINTON                  3.3    CISCO                    3.1    WINDSOR SEWAGE PLANT     3.0    SULLIVAN 3S              3.0    FLORA                    3.0    FARMER CITY 3W           3.0    FISHER                   3.0    CASEY                    3.0    ARTHUR 1W                3.0    SPRINGFIELD              2.6    PANA SEWAGE PLANT        2.0    CHENOA                   2.0    BUFFALO                  2.0    MT PULASKI               2.0    CLAY CITY 6SSE           1.5    LINCOLN NWS              0.9Unofficial reports:    HENNING 3SSE           6.0    BISMARCK 3W            6.0    DECATUR                6.0    HOMER 2N               5.2    DANVILLE 3S            5.0    LE ROY                 5.0    DANVILLE 1NW           4.5    DE LAND                4.5    LE ROY 4.1SSW          4.0    EFFINGHAM              4.4    CLINTON                4.3    CHRISMAN 4ESE          4.0    DEWEY 2NNW             4.0    MODE 4NW               4.0    BROCTON                4.0    LANE                   4.0    URBANA 1SSE            3.9    PARIS 10SE             3.8    BROADLANDS             3.5    CHAMPAIGN 2SSE         3.5    BLOOMINGTON 3NE        3.5    BLOOMINGTON 3SW        3.3    SIDNEY 1N              3.1    EDINBURG 3W            3.0    ST JOSEPH 1SSW         3.0    CHATHAM 2E             2.5    SHIRLEY 3NNW           2.2    WATSON                 2.0    NORMAL 2ESE            2.0    TAYLORVILLE 1ENE       1.7
Sustained winds out of the northwest of 20 to 30 mph with many locations reporting 45 mph plus. Here is a list of the top wind gusts recorded and times.
Willard Airport Champaign 58 mph @2:42 PM
Mattoon 55 mph @11:39 AM
3 W. Shelbyville 54 @6:12 AM
1 NNE. Divernon 51 mph @10:10 AM
Bloomington 49 mph @10:49 AM
Lake of the Woods 48 mph @ 8:21 AM
Decatur 48 mph @2:05 PM