Central A&M Falls in Overtime in 1A Title Game
Posted: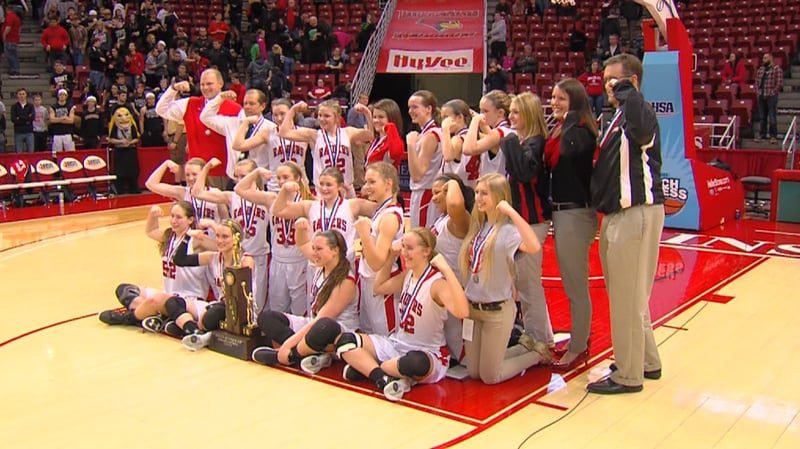 NORMAL - Central A&M's bid for back-to-back state titles came up just short Saturday.
Following 32 minutes that didn't give us a winner, Hardin-Calhoun outscored the Raiders 10-6 in overtime to take the 1A state championship, 60-56. For Calhoun, it was some long-awaited revenge, after falling to the Raiders 51-41 in last year's title game.
"I told the kids, they were going to come out and play great today. They came out and played great," said Central A&M coach Tom Dooley. "We'll hold our heads high. We lost to a great team."
Many of the same players, from both sides, contributed to the action Saturday.
6-foot-3 junior Grace Baalman, after being held scoreless in the first half of the game, scored 17 points, tying a game-high with teammate Kassidy Klocke.
Central A&M newcomer Emma Meyer also had 17 to lead the Raiders, who put together a strong performance against a much bigger Calhoun team.
The Raiders were in control for much of three quarters, building leads of 27-21 in the 2nd, and 37-32 by the end of the 3rd.
Calhoun used their bigs (three starters listed at 6-foot-0 and taller) to go on a 17-8 run in the 4th. Central A&M battled from down 4 late to force overtime.
After falling behind 54-50 in overtime, thanks to a pair of easy buckets for Baalman, the Raiders battled back to tie the game at 56.
With :26 left, Ryan Dooley missed a highly-contest short-range jumper, and the Warriors iced it from the charity stripe.
Baalman and her sister Emma combined to go 4-for-4 from the line in the final 21 seconds to put the game out of reach.
The Raiders (32-2) did not make a shot from the field in the overtime period, getting all 6 of their points at the free throw line.
"Those girls are taller than I am," said Dooley, "It's tough for a 5'6" kid, a 5'7" to drive in and make that happen."
Central A&M's 2nd place finish is the 2nd best in school history behind, obviously, last year's championship. A group of departing seniors were able to reflect on their careers, which included 4th, 1st, and 2nd place finishes at state in consecutive years.
"I couldn't ask for my girls to play any better," said senior Mikah Maples, who followed a 20-point performance in the semifinal with 16 points vs. Calhoun. "I'm so blessed to be able to play on the last day of the season. Even though the outcome did come how we wanted it to, it was still a really hard-fought game, and I couldn't ask for anything better."
"I started with these girls in the 5th grade," said Dooley, referring to a group of four seniors he'd spent coaching the last eight basketball seasons. "It got the bug in me to coach again. They lit a fire under me to coach, and I owe them everything."
Stayed tuned for more from Central A&M's run to state. WAND had a microphone on coach Dooley for the entire game. Find out what he had to say in the huddle during the thrilling state championship game in a special segment on the WAND News at 6pm on Wednesday, March 2.