Four Important Words to Remember When Planning for Severe Weather!
Posted: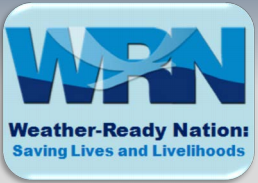 Central Illinois- Severe Weather Preparedness Week is set aside once a year to review your severe plan or come up with a new one for your home or office. Plan, Practice, Monitor and Act are the four most important words to think about when you are devising your safety measures.
Plan-
Home: Hold a family meeting and go over the risks severe weather could pose and identify the safe location(s) in your home.
Office: Identify the risks factors of wind, hail and tornadoes could pose to the building, along with time of day. Time of day will key to how many people might be in the building. How much time will it take everyone to reach the storm shelters or safe areas?
Practice:
Home: Have a tornado drill and evaluate the length of time it takes to get your family to safety. Holding drills will help to ease the stress when an actual warning is issued. Practice makes perfect!
Office: Conduct safety meetings and hold a tornado drill. A good time to do this would be during severe weather preparedness week! A drill later in the year will help to reinforce the message, as tornadoes can happen anytime of the year.
Monitor:
Home and Office: Designate someone as the weather watcher to monitor the sky, along with watches or warnings that might be issued. This person is the first line of defense when severe weather is possible. Here are some of the functions that should be performed:
Provide available information, before, during, after a storm:
Outlook: what to expect that day.
Watch: will be issued within a few hours of event.
Warning: severe thunderstorm, tornado within an minutes (or seconds!)?
Have a NOAA Weather Radio available to monitor severe weather information!
Online weather information—http://www.weather.gov. Smart phone app to monitor the weather and receive warnings Two-way communication: Get information from your weather watchers
Get the word out to family members, and your employees about what is happening and well being of everyone.
Act:
Home and Office: When a warning is issued don't wait seek shelter! Stay in place until the all clear is given! Make sure to be away of your surroundings for downed power lines, broken glass, sharp debris and other hazards.
More information on how to prepare can be found at http://www.weather.gov/ilx/severe-prep and http://www.illinois.gov/ready/Pages/default.aspx.