Local Fighter Finds Passion, Purpose in Boxing Ring
Posted: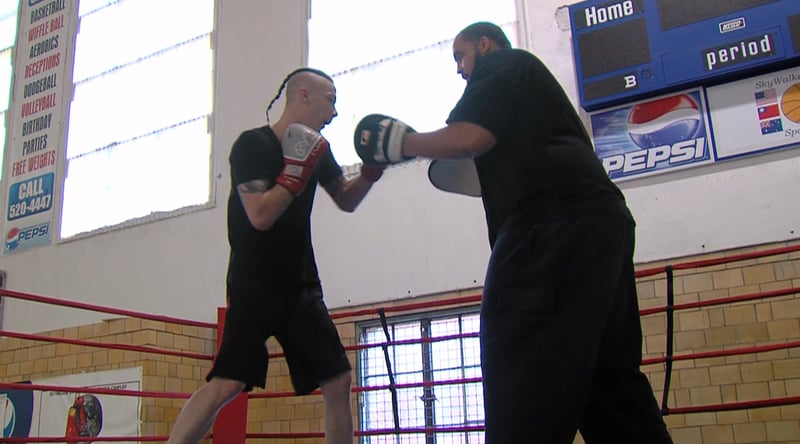 DECATUR - He's a two-time champion in his sport, but he remains rather inconspicuous in the kitchen of the Blue Spoon in Decatur.
Dalton Heathcock is a cook at the local breakfast spot.
"Usually I wake up at 5:30, 6:00 every morning, and depending on if I have to open the restaurant or not, some mornings I'm there at 6:00," said Heathcock, 25.
It's not Heathcock's cooking, however, that got him paired with Decatur's Jordan Maxey.
Heathcock, despite the apron he dons each morning at the Blue Spoon, is among the most successful boxers to come out of Decatur.
Maxey, a well-known entity in boxing in the Midwest, took the up-and-coming fighter under his wing.
"You can't judge a book by it's cover. And that's kind of the best way I can describe him," said Maxey.
On Heathcock, there's a lot to read. He lean, covered in tattoes, and sports a long pony-tail. That hair is tied behind a would-be a mohawk - on the sides, shaved right down to the scalp.
Fighting in the 141 lb. weight class, Heathcock is trying to build on a career that already includes two Golden Gloves titles. That amounts to a Midwest amateur championship.
"You can go around Decatur, and you're not going to find many people that can actually say they've won the golden gloves," said Maxey. "Then to say you've won it twice is really rare."
Maxey would know -- he's a 4-time Golden Gloves winner. For the last few years, he's been training local fighters - both in MMA and boxing.
He said he and Heathcock met up a couple years ago.
"The kid works hard, he listens," said Maxey. If I tell him to run an extra mile, he's not going to say 'ah man'. He works hard."
"I had done some martial arts and stuff like that before, but when I decided I finally wanted to box and that's it, I knew where to go already," said Heathcock, referring to his coach and training partners.
The real value for Heathcock comes with the routine.
"I wake up early and go to work," he said, recounting his day. "Me and Jordan are in the gym in the afternoon or at night. The next day is the same. Wake up, go to work, repeat. My days are all the same."
That's maybe the best thing for Heathcock, who recalls a childhood of struggle. He grew up one of five boys to a single mother, and said he could have had plenty of opportunities to turn his life down the wrong path.
"If I wasn't doing this, I'd probably be out partying somewhere," he said. "That's not good, that's never good. If you don't have any goals, then your life really has no direction. That's basically what this is. It gives me a purpose to be doing something other than that."
Heathcock's story could remind one of Rocky Balboa - the classic rags-to-riches boxing story.
As an amateur fighter, who's just taking fights when he can, the riches aren't there. At least not yet.
"I want to be a world champion one day," said Heathcock, who asked what his end-goal was. "I will be a world champion one day. I don't have any doubt."
Boxing has, however, given him a purpose.
"If he wants to keep working," said Maxey, "the sky's the limit."