Illinois Announces Non-Conference Football Games for 2019-2022
Posted: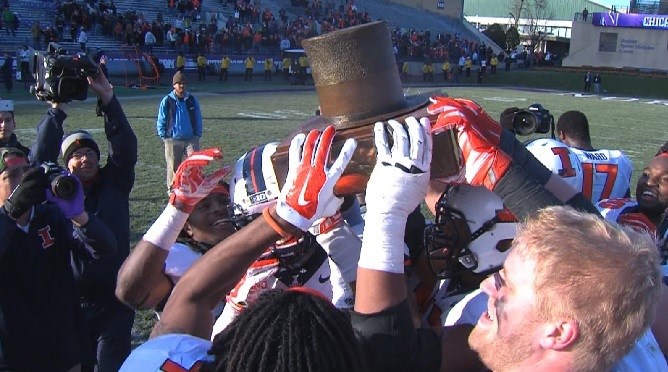 The University of Illinois announced Wednesday the addition of eight future home football games. The Fighting Illini will face each opponent once and all eight games are scheduled for Memorial Stadium.
Aug. 31, 2019 vs. Akron
Sept. 14, 2019 vs. Eastern Michigan
Sept. 5, 2020 vs. Florida Atlantic
Sept. 19, 2020 vs. Bowling Green
Sept. 4, 2021 vs. UTSA
Oct. 2, 2021 vs. Charlotte
Sept. 17, 2022 vs. Wyoming
Sept. 24, 2022 vs. Central Michigan
The Fighting Illini already have future home-and-home matchups scheduled with major opponents through 2026. The Illini will finish the second part of a home-and-home with North Carolina when they host the Tar Heels Sept. 10, 2016, at Memorial Stadium. Down the road there are home-and-homes scheduled with South Florida (2017-18), Connecticut (2019-20), Virginia (2021-22), Kansas (2023-24) and Duke (2025-26), one game per season through 2026.
Big Ten schedules are complete through 2019 and full 12-game schedules are complete for Illinois through 2019. The Illini also have previously announced that their home games vs. Northwestern in 2017 and 2019 will be played at Soldier Field in Chicago.
With the Big Ten moving to a nine-game conference schedule starting in 2016, Illinois will play all three of its non-conference games at home in even years (when the Illini play five B1G road games) and will play one non-conference game on the road in odd years (when the Illini play four B1G road games). That will give the Fighting Illini seven home games (counting the two remaining Soldier Field games) in each season through 2026.