Eisenhower Clicking at the Right Time for the First Time in a Long Time
Posted: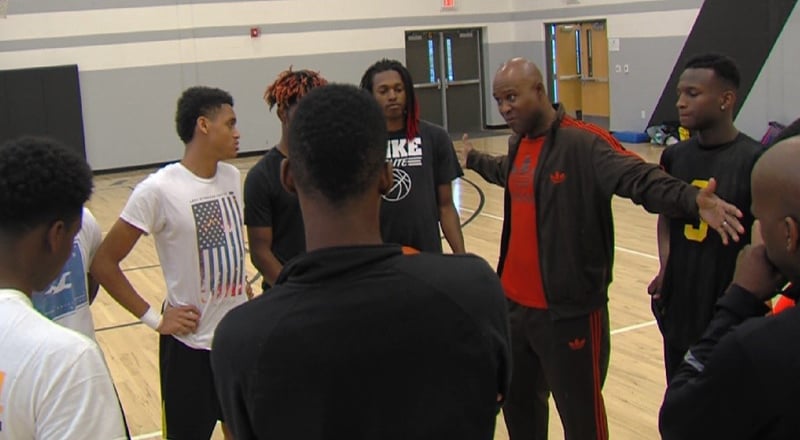 Eisenhower coach Rodney Walker meets with his team a day before their 3A regional matchup against Southeast.
DECATUR - In the unpredictable 2015-2016 basketball season, this statement may shock as much as any other: The Eisenhower Panthers are the last team standing in Macon County.
It's not the 2A 2nd-ranked Warrensburg-Latham Cardinals. They saw their end Wednesday night against Paxton-Buckley-Loda.
It's not defending 2A state runner-up St. Teresa. They fell in their regional finals.
And it's not MacArthur, Eisenhower's city rival, who'd been in the way in a few too many regionals in the last several years.
The Panthers are all that's left within 30 miles, and with an 10-18 regular season record, it's fair to say they beat the odds.
"It works to our advantage," said Eisenhower head coach Rodney Walker, who enjoys being underestimated.
Yes, 1A and 2A teams are a week ahead, preparing for sectional finals. It's not exactly fair to compare, say, Warrensburg-Latham's sectional semifinal loss, but it illustrates a breakthrough of sorts for a Panther program that's been down for a number of years.
Eisenhower followed a quarterfinal win over Taylorville with Tuesday's 60-56 win over MacArthur. It was Eisenhower's first playoff victory over MacArthur since 2007, and it was one head coach Rodney Walker told the Decatur Herald & Review they would have lost a month ago.
"A month ago, we were still in the process of learning the basics, rotations on defense," he said. "It seems like in the last three weeks these guys have just grasped it."
He added, "Sometimes it takes groups a little longer to grasp what we're talking about, but we're doing it at the right time."
"Some things would be clicking in a game, and then the next game it would be a different thing," said junior Stephon Bobbitt, recalling that most of the 18 losses were close games. "Then the same thing from last game wouldn't be clicking. Now it's like everything's coming together at the same time."
The "right time" is a rare time to click for Eisenhower, which will be competing in its first regional boys title game since 2009 - a game they lost to, of all teams, MacArthur.
Eisenhower will play Springfield-Southeast, which finished in a four-way tie atop the Central State Eight. The Panthers are now one of four conference teams left - co-champ Glenwood lost their 4A matchup on Wednesday.
"I say we're the most unpredictable team out there," said Walker. "We'll take the lower seeded team down to the wire. We'll take the top-seeded team down to the wire. You just never know what you're going to get."
Here's the kicker - Eisenhower's regional semifinal win over MacArthur was no fluke. The Panthers won the matchup just four days earlier, a 73-55 win in their regular season finale.
For Walker, it's all about timing "and a little bit of luck," both of which seem to be on their side.
"This team can take it all the way if they put it together," Walker said. "Right now we're starting to gel at the right time. If we get past Southeast (Friday) - and we should if we do the right things - the sky's the limit for us."
The game between the Panthers and Spartans is set to tip off at 7pm Friday at Lincoln Community High School.