Illini Bash Their Way to Opening Victory at Stetson Invitational
Posted: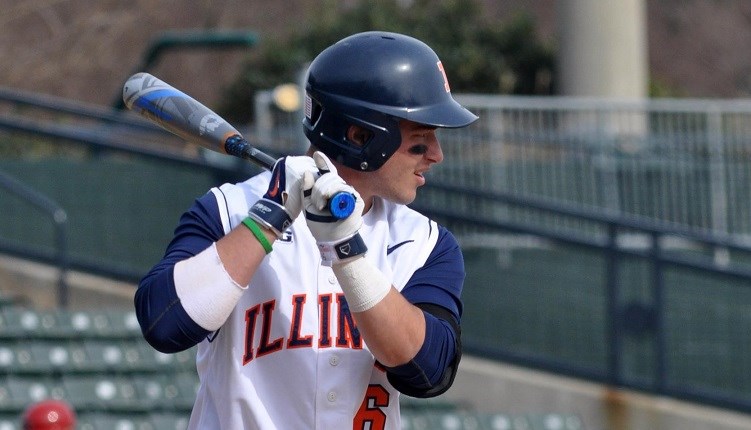 Photo Courtesy: Illinois Athletics
DELAND, Fla. (via Illinois Athletics) - Luke Shilling hit a three-run home run Friday to give the Illinois baseball team a 5-0 lead in the first inning and the Illini never looked back in a 9-4 win against Central Michigan to open the Stetson Invitational. Illinois' nine runs and 14 hits were both season highs and gave starter Cody Sedlock breathing room to cruise to his second win of the season.
"We were able to find some holes today," said Adam Walton, who led the Illini with three hits. "It's nice to come out and get the first win. Every weekend our goal is to sweep so we have to get that first one and I thought we played really well."
Walton, the leadoff hitter, and the rest of the top four in the lineup combined to go 9 for 17 with five RBI and five runs scored. The Illini tagged Central Michigan (0-8) starting pitcher Nick Deeg (0-3), a left-handed MLB Draft prospect, with six runs on nine hits in the first 5.0 innings for his third loss of the season.
Pat McInerney, who homered in the seventh, got the Illini started with a sac fly in the first inning, after Michael Hurwitz singled and Jason Goldstein doubled. Anthony Drago singled in a run before Shilling took a fastball over the right field wall for an opposite field homer in his first at-bat of his first career start.
Sedlock (2-0) was solid again in his third straight outing of 6.0+ innings. He allowed just five hits and struck out six in 6.0 innings, before handing the ball to the bullpen with Illinois leading 7-2.
At least 20 scouts were in attendance to watch the Illini ace, who was followed by Matthew James (2.0 IP, 2 ER) and Charlie Naso (1.0 IP, 0 ER) out of the bullpen. James made his first career pitching appearance and Naso threw for the first time in 2016.
McInerney's seventh-inning homer to left and a pair of runs in the eighth, including one on a McInerney single, padded the lead for Illinois' bullpen.
All nine players in the Illini's starting lineup had at least one hit, including two apiece from Hurwitz, Goldstien and McInerney. Shilling and McInerney both picked up three RBI and Goldstein drove in two.
Illinois (4-3) is back to Melching Field tomorrow night at 6 p.m. CT to face Stetson. Doug Hayes is scheduled to start for the Illini.