Ahead of B1G Tourney, Groce only concerned with getting to "the next line on the bracket"
Posted: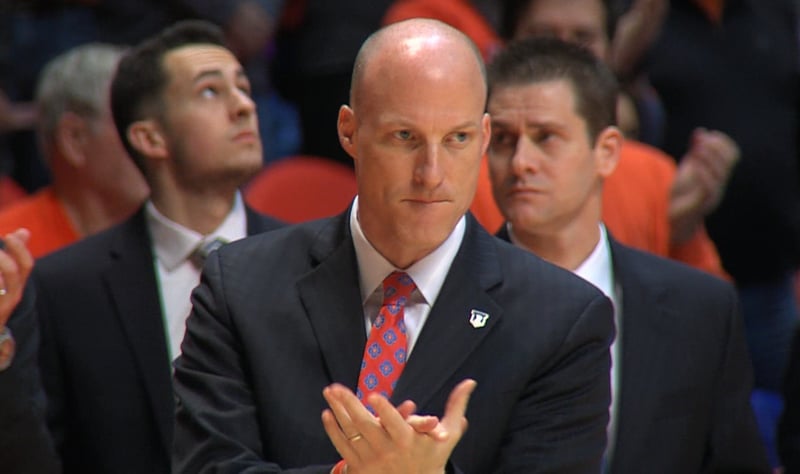 CHAMPAIGN -- On the eve of the Big Ten tournament, Illinois head coach John Groce is refusing to think of the long and difficult road to keep their season afloat - a season that, in all likelihood, ends this week.
"We've just talked about trying to get our name to the next line on the bracket," said head coach John Groce, heading into his 4th conference tourney with a 2-3 record in the previous three.
If history is an indicator, a Big Ten championship is near-impossible for the 12th-seeded Illini. Iowa still holds the mark as the worst seed to win the tournament, taking the 2001 title as the sixth seed.
Illinois actually made the tournament final as an 11 seed (1999) and 10 seed (2008), but will face a tougher road - needing five wins in five days, the last four likely against teams who've spent most of the season in the national rankings.
Groce reiterated his stance that they're only worried about Minnesota right now.
"That's all we've talked about. Then we'll come up for air - that's what everbody's trying to do. We had a good practice today," he said Tuesday.
Illinois (13-18, 5-13 B1G) will face Minnesota, one of the two teams in the conference to finish below them in the standings. Decimated by injuries, Minnesota has already lost to Illinois twice, including an 84-71 defeat to Illinois in this season's State Farm Center finale.
"There's quite a bit of familiarity there, especially since we played them quite recently," said Groce.
As a 12 seed, Illinois understands the long odds that stand between them and a postseason opportunity, but Groce said his team hasn't lost faith, and credits injured guard Tracy Abrams for that.
"He might be interested in giving a body part ot play in this game tomorrow," said Groce. Abrams tore his ACL prior to the 2014-2015 season, then his achilles ahead of the 2015-2016 season.
"When you go through that, like he has, I think he would tell you don't take anything for granted. Great opportunity. Everybody's sitting at 0-0," said Groce. "We can't control what's happened in the past, but we can control our attitude, effort, execution, our resiliency."
The Illini and Gophers tip off at 3:30pm to open the Big Ten Tournament Wednesday. The five day event takes place at Bankers Life Fieldhouse in Indianapolis.