Smith Moving Fast on Staff Additions
Posted: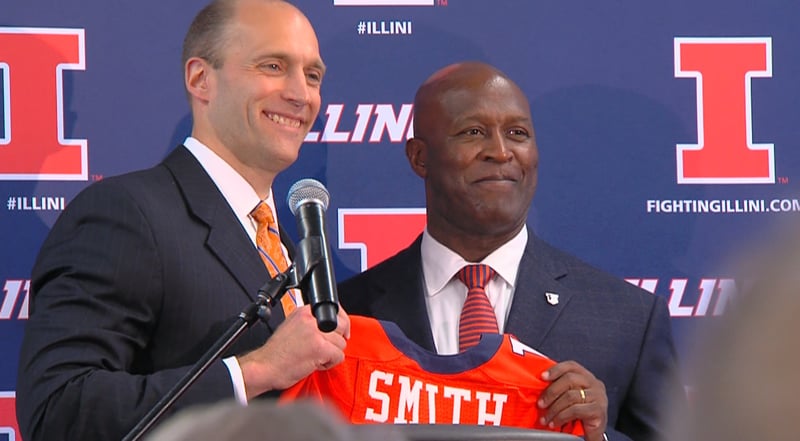 CHAMPAIGN - The thought of Lovie Smith leading the Illinois football team remains surreal for many Illini fans Tuesday.
Smith was introduced less than 48 hours after former head coach Bill Cubit was fired, a transition orchestrated by new Illinois athletic director Josh Whitman, filling his first, second, and third days on the job.
Just as quickly, Smith appears to be putting his staff together, needing an offensive coordinator - a void left by the also-fired Ryan Cubit - as well as making decisions on other positions.
Smith generally did not commit to assistants currently on staff, but did say they'd be considered.
"We're putting them all into the mix," Smith said at his introductory press conference. "We'll start evaluating to make decisions - the best decisions on putting the staff together, the best staff we can. They will be a part of that. Some members of the staff may stay. We'll just kind of see how that goes."
The reports coming in from all angles include Smith targeting former Texas A&M head coach Mike Sherman and Louisville OC Garrick McGee for their offensive coordinator position.
Footballscoop.com claims 49ers linebackers coach Hardy Nickerson is in position to become defensive coordinator.
Sports Illustrated's Thayer Evans reports Smith has already hired Indianapolis Colts assistant Andrew Hayes-Stoker to coach the wide receivers, and former Illini Luke Butkus as offensive line coach. Butkus, the nephew of Hall of Fame LB Dick Butkus, worked with Smith in Chicago from 2007-2009, following a playing career at Illinois that spanned from 1999-2001. He also spent the 2012 season at Illinois as an assistant under Tim Beckman.
The Chicago Tribune reports current Illinois defensive coordinator Mike Phair will stay on staff, but as defensive line coach. Smith singled out Phair on Monday.
"Mike Phair is a good football coach," he said. "Mike has been on my staff on a couple different places, and there are others. So it's safe to say I'm going to do everything I possibly can to keep Mike on board."
Smith has a reported $4 million salary pool for his assistants, a number that's up from the $2.4M given to Cubit.