Scouts From All 32 NFL Teams Watch Ward, Illini At Pro Day
Posted: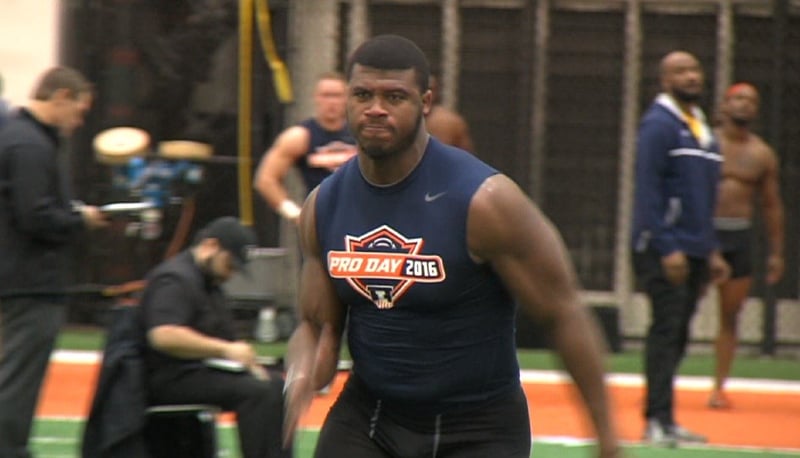 CHAMPAIGN - Illinois' indoor practice facility was buzzing on Pro Timing Day in a way it hadn't in years.
Scouts from all 32 NFL teams - in some cases, more than one per team - were on hand to watch 16 Illini go through the standard battery of drills.
The most attention went to defensive end Jihad Ward, who, after improving his stock at the Senior Bowl and NFL Combine, enjoyed the comforts of home.
"I'm finishing strong. A lot of people wanted me to train somewhere else, but I'm training here, I need to get that degree," said Ward, who's finished up his bachelor's in sports management.
The Illini are certain to end a 2-year draft drought this year, with some projecting Ward as a first or second round pick.
"It's a blessing, but I really don't pay attention to that stuff," said Ward. "I've still got to maintain my focus on working my craft, getting off the ball, setting my edges. Just work on my techniques."
"We could have five guys get drafted, and we take a lot of pride in that," said OL Ted Karras, who played in the East West Shrine Game, but was snubbed by the NFL Combine, "I sell myself as I know what I'm doing. I've played a lot of football, and I bring a lot of toughness to the positions."
The most impressive numbers of the day came from safety Clayton Fejedelem. Illinois' breakout star of 2015 clocked a 4.53 40-yard dash (unofficial), and a 40 1/2 inch vertical.
Fejedelem had 140 tackles in 2015, leading the Big Ten in the category by a wide margin.
"" said Fejedelem, whose star has steadily risen since he was a walk-on out of St. Xavier in 2014. "I transferred here to play and get an opportunity to chase my dream, which is to play on Sundays."
"There's been financial struggles. When you're a walk-on trying to get through college, paying for your meals," sadi Fejedelem. "Now it's coming in, it's coming into picture. It's feasible."
It was also an important day for WR Geronimo Allison who, like Ward, transferred to Illinois in 2014 for, among other reasons, this type of exposure in front of pro scouts.
"I never knew how it was going ot be when I got here," said Allison. "Really just tried to stay humble about it, and just grinding. That's all it really was that got us to this point."
Players will continue to work out up through the NFL draft, which runs April 28-30 in Chicago.
Find full results from Illinois' Pro Day below. All results from timed drills are unofficial, and the consensus of scouts in attendance.
Scroll farther down for post-Pro Day interviews with Ward, Allison, Fejedelem, Karras, and V'Angelo Bentley.
| | | | | | | | | | |
| --- | --- | --- | --- | --- | --- | --- | --- | --- | --- |
| NAME | POS. | HEIGHT | WT. | 40 YD | VERT. | BROAD | 20 SHUTTLE | 3 CONE | BENCH |
| Martize Barr | WR | 5'10" 1/2 | 191 | 4.58 | ---- | ----- | ----- | ----- | ----- |
| Geronimo Allison | WR | 6'3" 1/2 | 202 | 4.59 | 34 1/2 | ----- | 2.70 | ----- | ----- |
| V'Angelo Bentley | DB | 5'8" 1/4 | 193 | 4.50 | 38 1/2 | 10'2" | 2.63 | 7.22 | 18 |
| Chris Boles | OL | 6'3" 5/8 | 333 | 5.58 | 25 | 8'3" | ----- | 8.32 | 20 |
| Clayton Fejedelem | DB | 6'0" | 204 | 4.53 | 40 1/2 | 10'1" | ----- | 7.17 | 20 |
| Josh Ferguson | RD | 5'9" 5/8 | 196 | ----- | ---- | ----- | ----- | ----- | ----- |
| Eric Finney | DB | 5'11" 1/4 | 205 | 4.85 | 31 | 8'11" | ----- | 7.35 | 12 |
| Joe Fotu | DL | 6'3" | 274 | 5.02 | 30 | 8'9" | ----- | 7.80 | 18 |
| Ted Karras | OL | 6'3" 3/4 | 307 | 5.34 | 26 1/2 | 8'10" | ----- | 8.15 | 32 |
| Davontay Kwaaning | DB | 5'10" | 194 | 4.64 | 38 | 10'2" | ----- | 7.09 | 17 |
| Kenny Nelson | DL | 6'5" 1/8 | 238 | 4.87 | 32.5 | 9'5" | ----- | 7.43 | 15 |
| Les Poole | WR | 5'10" 1/8 | 190 | 4.90 | 31 | 9'4" | ----- | 7.49 | 14 |
| Cameron Tucker | RB | 5'9" 3/4 | 202 | 4.77 | 31.5 | 9'2" | ----- | 7.38 | 8 |
| Jihad Ward | DL | 6'5" 1/4 | 298 | 5.10 | 28 | 9'2" | ----- | 7.45 | 22 |
| Taylor Zalewski | K | 6'2" 3/4 | 238 | ----- | ----- | ----- | ----- | ----- | ----- |
| Nick North | DB | 6'0" | 206 | ----- | ----- | ----- | ----- | ----- | ----- |