LeRoy Panthers Loose, Confident Ahead of First-Ever State Appearance
Posted: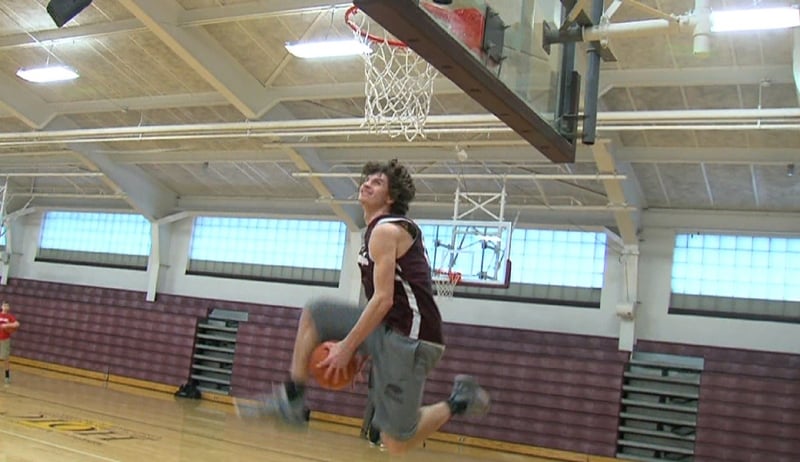 Matt Chastain leaps for his under-the-legs windmill dunk in a pre-practice slam dunk contest Wednesday.
LEROY -- A state title run is not for the faint of heart, and in a program's first-ever trip to state, it's impossible to know what to expect.
You might think LeRoy High School, enrollment 240, is a little overwhelmed by the great unknown.
An impromptu, pre-practice slam dunk contest on Wednesday put that notion the rest.
"No one really had any nerves, any jitters," said senior Matt Chastain, who noted the team's poise in their super sectional win at Redbird Arena in Normal.
"I told them before the game that most teams are nervous here, but I really didn't see that from them," said head coach Mark Edmundsen. "I felt like they were ready to go out and just have a good time."
The bright lights and big arenas that come with state title appearances are not to be underestimated. Far too often, a team's first trip to state is met with wide-eyed astonishment, and a "we're just happy to be here" attitude.
The Panthers are in Peoria to win, and at 27-5 - with their last two wins coming against the 3rd and 5th ranked teams in the state - they aren't nervous at all.
"We've come together as a team a lot more," said Chastain, the star senior who's own game has evolved over the course of the season. "We've stuck together. Meeting in dead balls, talking more, communicating more on the court. That's been a huge factor."
Friday's semifinal matchup with Liberty - a team just as hot as LeRoy - will be a new level of competition. After watching film, Coach Edmundsen conceded Liberty may have the more balanced starting five, but he doesn't doubt the best player is on their side.
At 6-foot-6, the senior Chastain has seen his recruitment pick up lately. Having remained relatively inconspicuous in the small town off of I-74, he now has eight division one offers, including Utah, Utah State, and just recently, Illinois State.
In Tuesday's super sectional vs. 5th-ranked Newark, he had 34 points on 14-of-17 (82%) shooting.
"To, every game, not only have the best player on the floor, but far and away the best player on the floor, it just makes the other team's preparation tougher," said Edmundsen. "It gets in their heads, and it gives the rest of our kids confidence, no matter what's happening, whether we're struggling shooting, struggling against the press, or having a bad game - there's always Matt to bail us out."
As is the case with many small towns on the big stage for the first time, the excitement extends far beyond the walls of LeRoy High School and into the town of about 3,500.
"It's been really fun for everyone," said Chastain. "I know the teachers are happy. All the students are happy. It's a really fun atmosphere to be in."
"As far as just community spirit and involvement, and school spirit and involvement, it really brings a group of people together," added Edmundsen, "There's really no other way to describe it than it's just fun."
Wednesday's practice, their last in the home gym this season, was apparently like any other -- loose, but focused. Before it started, Edmundsen even encouraged some "goofing around."
That's because they know when it's time to get serious, they'll be ready.
"These kids are toughed-skinned," said Edmundsen. "They take coaching, they take hard coaching and they've improved throughout the entire year, and they're peaking at the right time."
LeRoy plays Liberty is the first 1A state semifinal at Carver Arena in Peoria. That's set to tip off at 12:15pm.