Chastain Scores 20, Leads LeRoy to 1A State Final
Posted: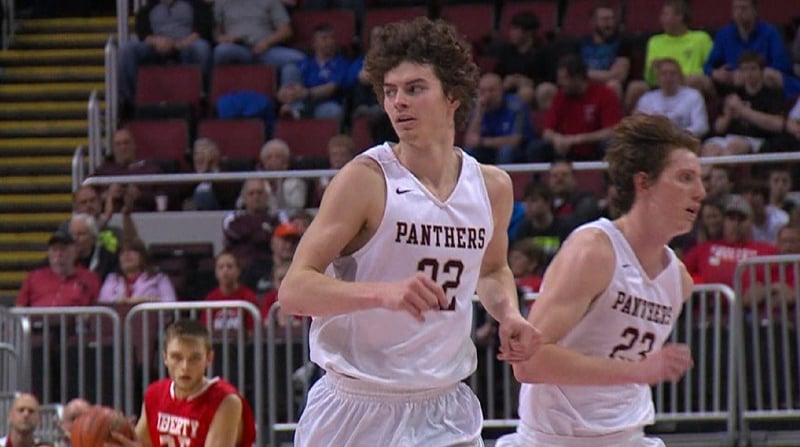 PEORIA -- The LeRoy Panthers will compete for a state championship, following a 48-32 win over Liberty in the 1A state semifinal.
Even on what they considered an "off day" offensively, the Panthers shot 51.7% from the field, and 57.1% from 3PT, en route to a win that will send the program to its first-ever boys basketball state final.
"The difference in this one was that it was just so physical," said LeRoy head coach Mark Edmundsen. "They were coming with hands and arms and knees and bodies."
"Personally I was a little frustrated," said senior Matt Chastain, who got off to a relatively slow start in the game. "I finally got myself calmed down in the 4th, so that's when we started being able to get the ball ahead, but they played incredible defense."
The Panthers, who scoffed at the notion of having any pre-state jitters, proved their confidence early, taking leads of 5-0 by the first media timeout and 22-8 by halftime.
The Eagles managed to get it back to a 4-point game late in the third quarter. All-state honorable mention selections Reed Wolfmeyer and Cole Wellman combined for 15 of Liberty's points on 4-of-28 shooting (14.3%).
Senior Matt Chastain, who said after the game he wasn't as efficient offensively as he would have liked, scored 20 points on 7-of-12 shooting (58.3%), adding 14 rebounds and 6 blocks. He had nine of those points in the fourth quarter.
The Panthers (27-5) will play Chicago-Leo on Saturday. The 1A state championship game is scheduled to start at 2pm at Carver Arena in Peoria.